For the love of good food: A look at our cooking class program
This article was originally published in May 2019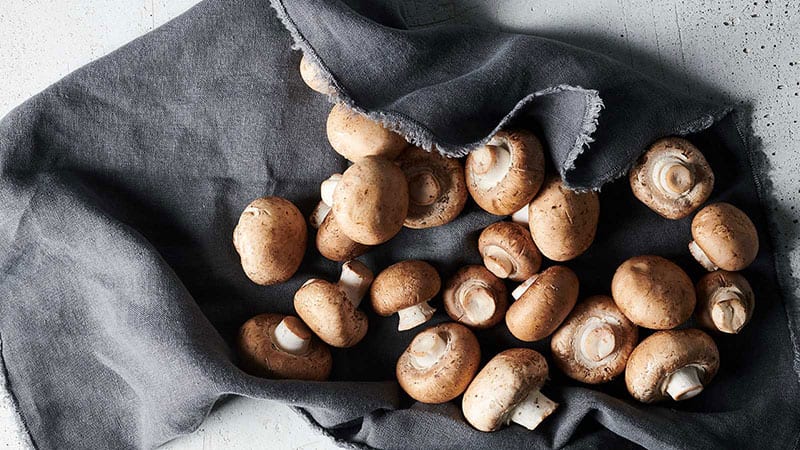 Take what you know and pass it on. Demystifying food has been a cornerstone of our co-op for nearly four decades through our cooking class program, PCC Cooks. Chefs, nutritionists and global cuisine experts enthusiastic about spreading the joy of good food take to the classroom to educate our members and shoppers about fresh, seasonal ingredients; nutritious eating; international staples; and time-honored techniques.
Where it all began
Concerned with her family's health, Goldie Caughlan stepped foot into a tiny food co-op — the original Ravenna PCC — in the late 1970s. She recalls walking through the bulk section realizing, "I don't know what half of these things [are]. What is bulgur?"
Goldie's curiosity and a band of passionate members were the catalyst for PCC's first nutrition classes. Between 1983 and 2019, classes offered went from 32 to 1,600 annually, no longer taught on a hot plate in Seward Park PCC's basement, but in the collaborative, chef-grade classrooms found across seven PCC locations.
The program's heart and soul
Many of our instructors have been with the program since the 1990s and have shaped it into what it is today: a well-rounded experience filled with anecdotes, beloved dishes and memories to be made. Every instructor, from newcomers to PCC Cooks veterans, provides perspective on the power of good food.
Northwest transplants passionate about bringing authentic recipes from their homeland lead the more than 350 global gourmet classes offered each year. Omid Roustaei roots his recipes in stories of his childhood by the Caspian Sea.
"Part of the experience that I want to create is not just five Persian recipes, but what is behind the traditions," he said. "No matter how many hours ahead I have to get there, I will make sure when [students] enter 'my home,' or this classroom, they are greeted with abundance and the hospitality that is part of the culture."
Chefs with a deep love of local, seasonal ingredients bolster the PCC Cooks technique classes, demonstrating how to craft elegant courses, julienne carrots confidently or bake up satisfying treats. Thanh Tang gathers his students around the counter to cook together and takes a hands-on approach: "People learn more by doing things and being in the moment versus trying to read the recipe packet and follow along."
Nutritionists with a wealth of knowledge share their expertise in our health classes, making special diets delectable and showing students how to heal themselves with each meal. Michelle Babb, M.S., R.D., C.D., keeps her classes light to ensure healthy eating is approachable.
"Part of my job is to do nutrition myth-busting because there's so much misinformation and conflicting information," she said. "I always welcome a lot of questions when I'm teaching class." Babb's classes are among more than 25 nutrition courses offered each season.
Igniting a passion for good food starts as young as two years old with our popular kids' classes. These immersive experiences inspire the next generation of cooks.
"Nobody gets to sit down in my class for more than the first few minutes," said instructor Cam Zarcone of her kids' classes, "We're up and moving around; we've got our hands in everything; we're going all over the kitchen doing different things. I think that kind of tactile piece of it is really important for kids."
Building a community of food lovers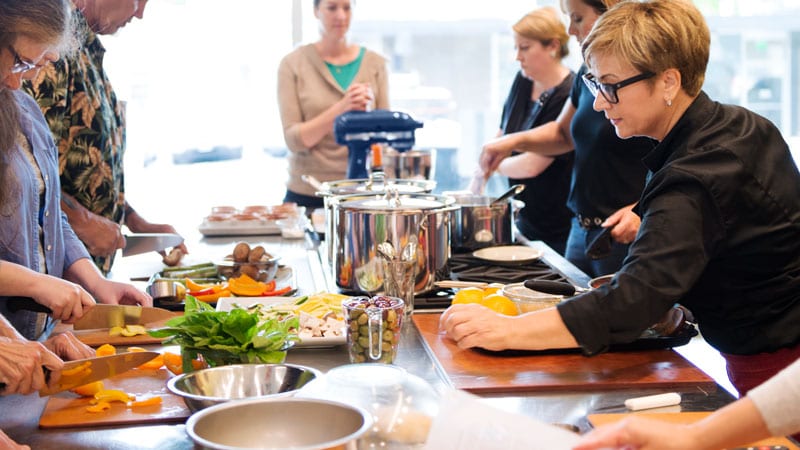 To instructors and students alike, PCC Cooks is more than just a cooking class program — it's a community. More than 6,000 students gather each year, often multiple times a season, to attend 1,600 classes.
"We have lots of regulars," said Thanh. "So when it comes to class, it's like a big block party."
Each PCC Cooks classroom brings with it a close-knit group of students, eager to learn. Just as important as the experience itself is what our students take away from it.
"I learned more in these two and a half hours that I can use to apply to my life than ever before," said one student in a recent technique class. "The instructor had such passion for her topic!"
Adds Alicia Guy, former PCC Cooks Program Manager and instructor: "The classroom is where the greatest reward is when you see people, not just having a good time, but having a meaningful experience."
---
PCC Cooks Classes
GLOBAL GOURMET PICK
Chinese Stir-Frying: Spring Greens
with Christina Chung
Stir up the best of fresh, local veggies with a stir-fry primer that takes you from prep to wok.
TECHNIQUE PICK
Kitchen Basics: All About Eggs
with Jennifer Reyes
Expand your egg knowledge with reliable cooking techniques that will last a lifetime.
TO YOUR HEALTH PICK
Food and Mood
with Marilyn Walls, M.S.
Improve your mood with the foods you eat — get a taste of how each bite affects you.
PCC KIDS COOKS PICK
Around the World in Five Days Kids' Cooking Camp
Introduce your future chefs to global cuisines — they'll explore a new country each day.
View the full lineup of Spring PCC Cooks Classes here!