Our co-op community
This article was originally published in May 2019
PCC has strong Pacific Northwest roots. We have been giving to our community for decades — supporting neighborhoods, ensuring a sustainable food system, and protecting the environment. Connect with us so we can support your effort to build a more healthy and sustainable community. For more information, please visit Healthy Communities.
Columbia City Farmers Market
Wednesdays, May 8 through October 9
3 to 7 p.m.
37th Ave. S, Seattle
The Columbia City seasonal farmers market opens May 8. Columbia City PCC has proudly sponsored the farmers market since we first opened our doors. Farmers markets are a great opportunity to connect directly with the people who grow your food and help create a sustainable foodshed. For more information, visit seattlefarmersmarkets.org/markets/columbia-city.
Green Lake Food Walk
Saturday, May 18
12:30 to 4:30 p.m.
Registration booth at Homestreet Bank
417 NE 72nd St., Seattle
The Green Lake Food Walk organized by the Green Lake Chamber of Commerce, showcases the neighborhood's eateries and food businesses. Each "food walker" will get access to all participating businesses. Make sure to save room for the Green Lake Village PCC booth where we'll be featuring some deli favorites.
For more details and to purchase tickets, visit greenlakefoodwalk.com.
Edmonds Health & Fitness Expo
Saturday, May 18
9 a.m. to 12 p.m.
Edmonds School District Stadium
7600 212th St. SW, Edmonds
The Edmonds Health & Fitness Expo promotes wellness for families living in Edmonds, Lynnwood, Mountlake Terrace and Brier. This event offers free health screenings, activities for all ages and a bike rodeo. Edmonds PCC staff will test your food and co-op knowledge at the event for a chance to win nutritious and delicious snacks.
Click here to check out the lineup.
Seattle Works Day
Saturday, June 8
Noon to 3 p.m.
Seattle Works Day is a citywide fundraising and volunteer event organized by Seattle Works, a local nonprofit that builds community by connecting people with volunteer opportunities. It's one day where individuals, nonprofits and companies tackle projects small and large together to make our community a better place. Volunteers pay a registration fee to help make this ambitious day happen and to support Seattle Works' valuable year-round community projects. Seattle Works provides T-shirts, water and snacks, and hosts a family-friendly after-party to bring people together across age, location, job title and interest. PCC has arranged for vendors to offer snacks to the hardworking volunteers. PCC regularly partners with Seattle Works to manage volunteers for our packaging parties at food banks, where we repackage bulk foods for donation into family-sized portions. The bulk foods are purchased with money raised throughout the year by PCC and our shoppers.
Registration ends May 27, so gather your team and sign up soon. To learn more about Seattle Works and this event, visit seattleworks.org/swd.
---
May customer service star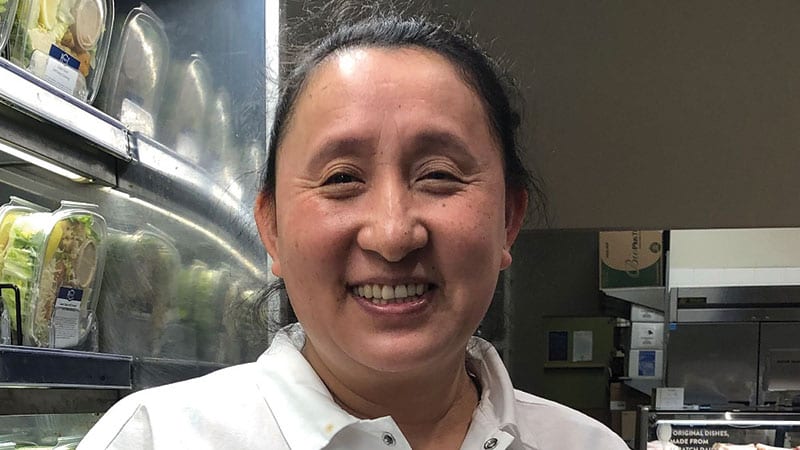 Tshewang Llahmo
Deli Janitor, Fremont PCC
Llahmo is positive and upbeat, and always happy to take on any project that is asked of her! As our overnight deli janitor in Fremont, Llahmo does a great job setting up our morning crew for success. She joined PCC in 2010 and we appreciate all the hard work she puts in every single day. We are so happy to have Llahmo on our team!