A cooking fail doesn't mean you're a failure in the kitchen
By Hsiao-Ching Chou, guest contributor
This article was originally published in September 2019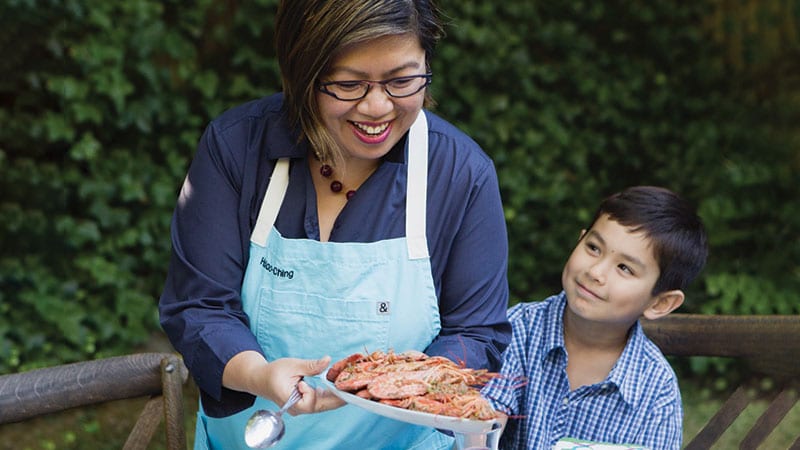 ---
You will not leave my dumpling-making class a master. And you shouldn't expect to.
The pattern I've seen goes something like this:
We talk about the magic of all-purpose flour and water to yield a dough that suits dumplings, as well as noodles and scallion pancakes (recipe below).
I demonstrate how I roll out wrappers from freshly-made dough, add just enough filling, and pleat the edges using five different techniques. Then, more slowly, I narrate the micro-movements that no printed recipe can convey as effectively as the personalized instruction that comes from being in the same kitchen.
You try to roll a few dumpling wrappers and it will feel awkward, because you have to coordinate a series of actions that your brain and hands haven't yet learned. You pinch a few dumplings shut and then say what I have heard hundreds of students lament: "Mine don't look as good as yours."
There is a lot of baggage in that statement.
I have taught kids as young as two or three and grownups of all generations to make dumplings, working from my own 40 years of experience. Younger kids don't judge themselves. They're eager to learn and are proud of any and all dumplings they complete. To them, the act of making dumplings is the accomplishment.
As we mature, self-awareness becomes self-consciousness, and the seeds of expectation and perfectionism set in. By the time adults land in one of my dumpling classes, they've had years of practice beating themselves up for not being able to achieve success instantaneously. They come to class to learn how to make something they've never made before, and yet they expect to develop the same degree of finesse in an hour that took me the proverbial 10,000 hours of repetition.
Yes, we are human. But why are we so unkind to ourselves—especially when we are learning something new?
After I recognized this behavior pattern, I introduced a moment of gratitude at the beginning of class. I thank my students for committing the time (and money) to join me in class and I share a few principles to cook by:
I will teach you the basic technique for making dumplings, but your dumplings won't look like mine, and that's ok. Like our fingerprints, each person's dumpling shape will be unique.
Uniformity is for restaurants, where every meal is a promise to a paying diner for consistency. Professional dumpling makers train to churn out carbon copies.
Consistency takes practice—lots of it. You will develop a signature dumpling fold. Over time, your signature will become more refined.
No matter what they look like, the dumplings taste delicious. Even burnt ones.
I get it. Home cooks fear failure and wasting time and ingredients. It's frustrating if a recipe doesn't turn out, especially if there are hungry people waiting. We ought to shift our perspective on "failure." The reason why a recipe doesn't work isn't always user error. If it is, it's not a character flaw. It's one training rep.
In the end, the promise of our home kitchens isn't about uniform dumpling pleats or a perfect score on the number of amazing meals achieved. It's not a transaction. When we cook, we feed our greater need for connection, where the only regret is not trying at all.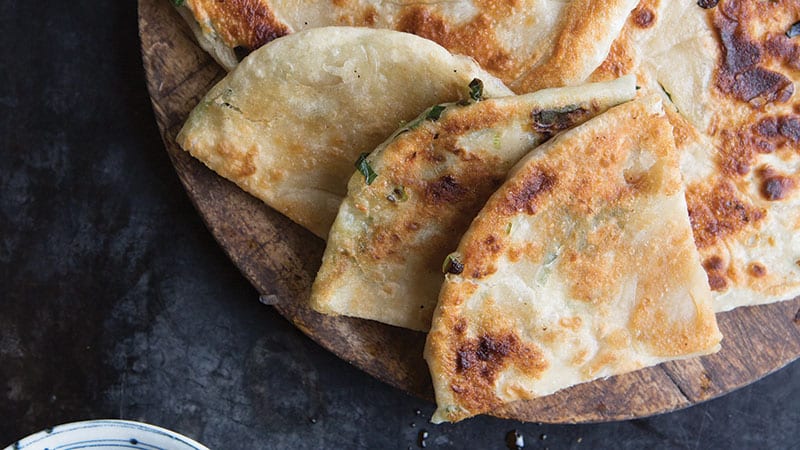 ---
Scallion pancakes
Makes 4 6-inch pancakes
2½ cups all-purpose flour
¾ cup warm water (about 105° F to 110° F)
5 tablespoons vegetable oil, plus more for coating the dough
2 to 3 teaspoons kosher salt, divided
4 stalks green onions, finely chopped
In a large bowl, combine the flour and water and stir well to combine. Once the dough starts to clump, use your hands to gather it into a ball. Knead the dough in the bowl for about 1 to 2 minutes until the ball holds together. Cover the bowl with a damp towel and let rest at room temperature for about 20 minutes.
Knead the dough for about 2 minutes to smooth it out. Divide the dough into quarters. Roll a section out to about 8½ inches in diameter. Brush a coating of oil on the dough. Sprinkle about ½ teaspoon salt across the oiled dough. Sprinkle on 2 to 3 tablespoons of onions. Starting from the bottom edge of the round of dough, roll the dough tightly into a tube, then take one end and create a tightly wound coil. Tuck the end under the coil. Now, roll the coil flat until it's about 6½ inches in diameter and ⅛ inch thick. Repeat with the remaining sections of dough.
Preheat an 8-inch skillet over medium-low heat for about 1 minute. Add 2 tablespoons oil and heat for about 5 seconds, or until it starts to shimmer. Add a pancake and fry for 1½ to 2 minutes, or until golden. Flip and repeat. Remove the pancake and set aside on a plate. Add 1 tablespoon of oil to the pan before cooking each of the remaining pancakes. Cut the pancakes into wedges and serve with the dipping sauce.
Dipping sauce: Combine 1⁄3 cup soy sauce; 2 tablespoons rice vinegar; 1 stalk green onion, finely chopped; 2 large cloves garlic, minced; 1 tablespoon chopped fresh cilantro; 1 teaspoon minced fresh ginger.
Adapted from Chinese Soul Food: A Friendly Guide for Homemade Dumplings, Stir-Fries, Soups, and More.
---
Sign up for Hsiao-Ching Chou's October dumpling classes at PCCMARKETS.COM/CLASSES.
Chou will teach dumpling-making techniques and recipes from her book, Chinese Soul Food: A Friendly Guide for Homemade Dumplings, Stir-Fries, Soups, and More.
---
PCC Cooks
COOKING CLASSES TO CULTIVATE YOUR INNER CHEF
Learn new skills to savor end-of-summer produce and celebrate your favorite fall flavors. We're offering more than 40 cooking classes at seven locations for all different ages, interests and skill levels.
Kitchen Essentials: Need to Know Techniques
Master fundamental skills like roasting vegetables, mixing dressings and marinades, searing steak and crafting dough.
Cicchetti: Venetian Small Plates
Elevate your patio party playbook with easy apps, perfectly paired wines and a sweet stone fruit sorbet.
Cider Pairing 101
Discover the history of cidermaking, explore apple varieties and learn the tricks to tasting a variety of different ciders.
Farm to Table Dinner with PCC Farmland Trust
Gather for a late summer feast—all net proceeds benefit the Trust's work protecting Washington state farmland.
North Indian Favorites
Bring popular Indian foods to life in your own kitchen. You'll get hands-on experience making pakoras and more!
Browse all classes and sign up at pccmarkets.com/classes.