Sustainable packaging: from petroleum to plants
This article was originally published in September 2019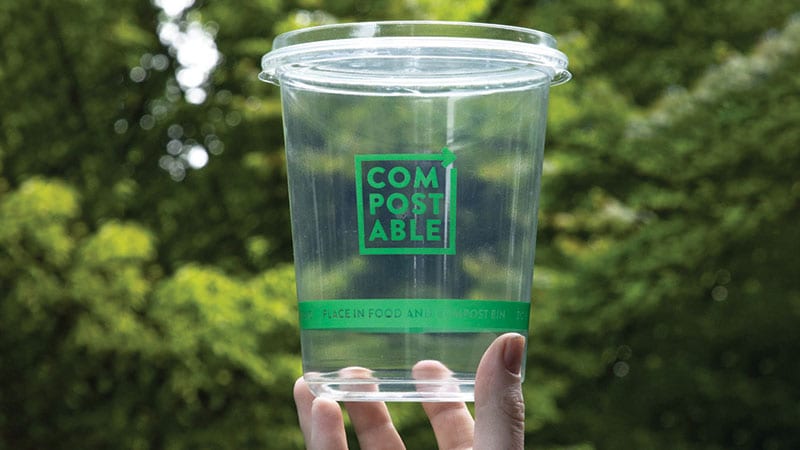 PCC's plastic footprint just got a lot lighter.
Company-wide, PCC has switched deli containers from petroleum-based plastic to plant-based compostables. It may sound like a small change, but those clear containers make up more than 80% of the petroleum-based plastic pieces used in PCC's deli each year. This move is estimated to eliminate more than 8 million pieces of petroleum-based plastic a year. The impact will grow even larger as we open five new stores and is a major leap toward our goal of eliminating all petroleum-based plastics from deli packaging by 2022.
The move comes at a time of increasing alarm about the rising use of petroleum-based plastics. More plastic has been produced in the last decade than ever before, with annual global consumption reaching more than 320 million tons, according to a recent report in the journal Nature.
From disturbing data on tiny microplastics to photos of marine animals choked by plastic waste, from packed landfills to the ocean's "Great Pacific Garbage Patch" swirling between California and Hawaii, the amount of petroleum-based plastic in our environment is rising—along with its impacts.
"Because plastic does not break down in the environment, it has continued to accumulate in waterways, agricultural soils, rivers, and the ocean for decades," noted one recent report from the nonprofit Center for International Environmental Law.
"The last few years have seen a growing awareness of and concern about the urgent crisis of plastic in the oceans. More recently, that concern has expanded to the impact of plastic on ecosystems, on food and water supplies, and on human health, amidst emerging evidence that plastic is accumulating not only in our environment but also in our bodies. Amidst this growing concern, there is another largely hidden dimension of the plastic crisis: plastic's contribution to global greenhouse gas emissions and climate change."
As concerning information continued to emerge, PCC developed packaging standards in 2017 as part of our belief that we have a responsibility to choose packaging that is safest for consumers and for the environment. We hoped the standards (which can be found here) would serve as a model for other businesses and manufacturers and spur demand for better solutions. Members and shoppers also consistently tell PCC that reducing use of petroleum-based plastic is a critical priority.
Why compostables?
PCC's guidelines call for compostable paper and compostable polylactic acid (PLA) plastic as best choices for packaging.
For years, we relied on recyclable plastic containers in the deli. That was a better choice than containers destined for the landfill, such as Styrofoam (now banned for food service packaging in Seattle). However, while environmental decisions involve complicated tradeoffs, compostable materials are generally considered significantly better than recyclable plastics, offering reduced greenhouse gas emissions and other benefits. (See the accompanying box for more specifics.)
More than 75% of plastics generated in the U.S. are sent to landfills, while about 9% are recycled, according to a U.S. Environmental Protection Agency report using data from 2015, the most recent year available. About 15% are combusted, a process that raises other issues about conservation and pollution. Also, stringent new standards from China have greatly reduced markets for recycled plastics from the U.S., even though the Seattle area does better than most.
When it comes to food containers, compostables offer an extra benefit: In areas like Seattle, which offer yard waste collection services that go to industrial composting facilities, leftover food can be left inside the container. This saves water that would otherwise be used to clean out a recyclable plastic container and avoids the risk that leftover food will be thrown away and create additional problems.
When food winds up in the landfill, the dark and oxygen-deprived environment means it decomposes slowly, producing methane, a greenhouse gas that's far more potent than carbon dioxide, noted Brent Kawamura, PCC's senior sustainability specialist. A recent study showed that landfills are the third-largest source of methane emissions in the U.S. In fact, Seattle has now made it illegal for organic waste, such a yard trimmings and food scraps, to end up in the landfill.
Made from corn
The new PCC containers are made from PLA, a biopolymer derived from corn, a renewable raw material. They can only be composted at local industrial composting facilities, such as Cedar Grove. Mixed with other compostable materials such as food and yard waste, the PLA containers break down in a process that lasts about 60 days.
PLA has been growing in popularity in recent years, though it's not entirely without drawbacks. One common criticism is that PLA will not break down in backyard home compost piles—it requires the consistently high temperatures of industrial composting facilities. This is less of an issue in our region, as over 99% of King County single family households can subscribe to food and yard waste collection services that deliver to industrial composting facilities.
Another common criticism of PLA is that the corn used to make the biopolymer is not all made from non-GMO (genetically modified organism) corn. Purely non-GMO polymer is not yet available at the scale needed to produce PLA containers, so manufacturers are using a mix of both non-GMO and GMO corn. (It is important to note that the high heat used to create the polymer destroys genetic material.) PCC has offset all estimated GMO-based polymer in its PLA-based packaging through 2020 with offsets from the Working Landscapes Certificate program, which supports the growth of more sustainable and non-GMO corn production.
The road to change
The change comes with a cost. PCC pays more for the compostable containers than the old version. However, the move fits with the co-op's triple bottom line of balancing economic interests with social and environmental impacts—and our history. In 2007 PCC removed plastic shopping bags from stores and replaced them with paper bags, nearly five years before a Seattle city ordinance banning plastic bags. PCC also replaced plastic straws with compostable options in 2015, three years before a municipal ban took place, as well as swapping out our beverage cups and lids, soup cups and lids, and utensils.
One roadblock was finding compostable deli containers that performed as well as recyclable current ones. It's a common conundrum when looking for sustainable solutions.
"We made a concerted effort to find compostable packaging that was sustainable and functional," said Brenna Davis, PCC's vice president of social and environmental responsibility.
While researching, testers filled containers with PCC's heaviest foods to see whether they collapsed or cracked, whether the lids would pop off, or other common flaws. The first compostable versions leaked or otherwise failed. Ultimately, staff members—and technical analyses—concluded the new containers, which are also used for bulk items and in the meat department, perform better and actually look better than the petroleum-based versions.
We also designed a "compostable" logo for the containers and other existing compostable packaging along with instructions for how to handle and dispose of them properly. Store waste bin labels were redesigned to more clearly show which items should go in which bin.
The new PLA containers do come with some limitations: They should not go in recycling bins—they cannot be recycled and will contaminate recycling loads. They also shouldn't be microwaved and are not designed to hold hot liquids.
PCC continues to pursue other ways to eliminate petroleum-based plastics as quickly as possible, targeting other difficult challenges such as produce bags. Staff members are working with packaging and food manufacturers, other co-ops and other sustainability leaders to transition toward more sustainable packaging options that have the smallest environmental footprint. Such commitments will hopefully further increase access to sustainable options and spur developments in new technologies.
"It's still an evolving industry. Technology and supply are playing catch-up to consumer demand. There's a lot being done right now, but still a lot of area for improvement…" Kawamura said.
"We want to demonstrate what's possible and push the industry in the right direction."
---
Composting counts
PLA containers are considered better for the environment than petroleum-based plastic for many reasons, including:
Made from a renewable resource.
Composting can help reduce greenhouse gas emissions from landfills.
Plastics must be cleaned before they're recycled, which often takes extra water. Worse, if traces of food are left in recyclable containers, they cannot be recycled and end up in the landfill.
PLA plastic does not require phthalates in manufacturing.