Shake it up
This article was originally published in July 2016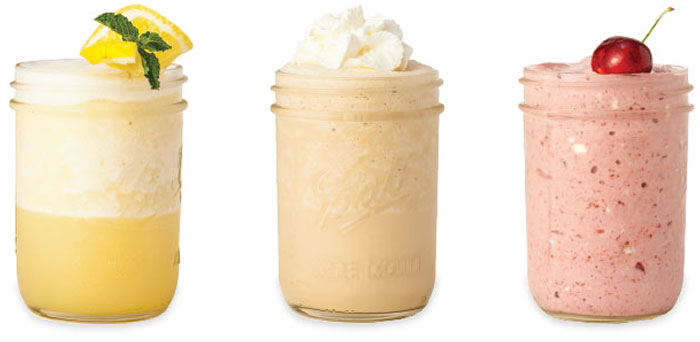 You can find deluxe milkshakes at upscale burger joints around town, but there's no easier summertime treat to whip up yourself. These variations include a boozy option.
Citrus Sorbet Freeze
This combination is as refreshing as it gets when the temperature passes 80 degrees. A splash of milk will thicken it up a bit, but it's not necessary by any means.
Lemon sorbet
Lime or Grapefruit LaCroix Sparkling Water
Adult addition: Antech Blaquette de Limoux
The Buzz
It's a homemade version of your favorite coffee bar's over-the-top treat! Cold brew coffee supplies a hit of caffeine; balance it if you like with an ounce or two of milk stout.
Coffee ice cream
Tony's Coffee Organic Cold Brew with milk and sugar
Adult addition: Left Hand Brewing Milk Stout
Cherries a la Mode
Sweet, tart and creamy: this combination is like cherry pie without the crust. A splash of either variety of port will makes this come as close to elegant as a milkshake can be.
Vanilla ice cream
Milk
Caramel sauce
Frozen sour cherries
Adult addition: Quinta Seara d'Ordens NV Fine Tawny or Ruby Porto
Good ingredients make it great
You'll find quality ingredients that will elevate your shake from good to great.
Ciao Bella Lemon Zest Sorbetto
The terrifically intense and fresh lemon flavor is balanced with a creamy texture that's wonderfully refreshing when whirled up with sparkling water.
Double Rainbow Coffee Ice Cream
Creamy organic richness with a dark-roast coffee flavor. It's available in either coffee or chocolate versions!
Alden's Organic Vanilla Ice Cream
Smooth and creamy, the texture of this organic ice cream is perfect for a shake. It's scoopable without being too airy.
Tony's Coffee Organic Cold Brew
This lightly sweetened, ready-to-drink latte is like adding a shot of great espresso along with the necessary milk to thin your milkshake.
Hot Cakes Pacific Coast Sea Salt Caramel Sauce
Small batch caramel sauce made with organic local milk and a delicious hit of salt? Yes, please.