Superb sausage sandwiches
This article was originally published in July 2016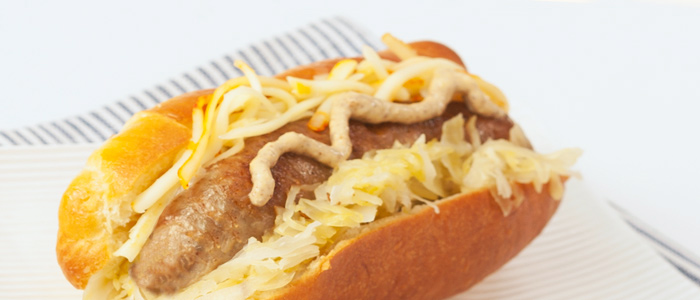 While brats are irreplaceable in link form, other kinds of sausage make fantastic patties — more of a burger-style sandwich than a hot dog. You can shape the patties into just the right size and shape for your preferred bun or sandwich roll.
Mondo & Sons has been making our house-brand PCC Sausage in Columbia City for years; many varieties are available in pork, turkey or chicken, so you can choose your preferred texture and fat content.
Cheesy Brat
Bratwurst
Britt's market kraut
Whole grain mustard
Muenster cheese
Macrina brioche hot dog bun
Pairings: Bayern Pilsner or Naches Heights riesling
The Philly
Blending both hot and mild Italian sausage is delicious and lets you easily adjust the heat of each patty for different family members.
Bulk Italian sausage
Roasted red peppers
Provolone
Brioche sesame bun
Pairings: Cantele Salice Salentino or Chinook cabernet franc rosé
Spicy Torta
Cook the patties in a cast iron skillet, assemble the sandwiches, then briefly toast each one in the same pan, pressing down slightly during cooking.
Bulk chorizo
Mashed black beans
Avocado slices
Queso Botanero
Sandwich roll
Pairings: Ontañon "Ecologica" tinto or Schooner Exact "Evergreen" IPA