Best bee-havior
This article was originally published in July 2016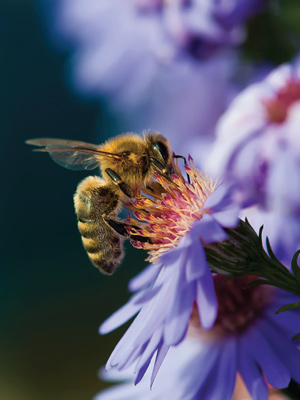 Pollinators play an obvious role in our health and body care department because countless products depend on the beneficial aspects of flowering plants, honey or beeswax. A number of producers recognize that by contributing directly to the health of all pollinators, most notably honeybees.
There are big and little ways that the makers of plant- or honey-based products help their buzzing buddies. Both Bodyceuticals and Herb Pharm have taken the step to become Certified Bee Friendly farms. This means they practice safe pest management, offer clean water and continuous blooms along with nesting habitat and provide nutritious forage on a minimum of three percent of their land. Find more at pollinator.org/bff.
One of Mickelberry Gardens' founders is a beekeeper in the Portland area, which allows this small producer of honey-based tonics and skincare products to offer honeybee swarm removal to people in the area. This means that bees on the loose will be captured and provided with a safe home, rather than destroyed.
Host Defense has a much bigger picture project in the works. Since 2014, co-founder and mycologist Paul Stamets has been working with Steve Sheppard of Washington State University to examine potential benefits of supplementing the water supply of 300 sets of honeybees with protective mushroom extracts. While the research is in early phases, the preliminary indications point toward potentially reducing harmful parasitic mites in the hives without negative effects on the bees.
Oregon's Wild Harvest
Makers of biodynamic and organic herbal extracts and supplements, this company dedicates more than 10 percent of their farmland to beekeeping. Bees that live on one farm lead lower-stress lives than those in mobile hives.
Host Defense
The joint study with WSU honeybees and Host Defense Reishi and Chaga extracts is in its second phase of research this year, exploring potential benefits of mushroom extracts on bee health. beefriendlyinitiative.org
Moon Valley Organics
Through their Bee the Change program, 10 percent of the net profits from their organic Herbal Lip Balms are donated to programs that protect pollinators. This effort has raised $6000 thus far!
Big Dipper Wax Works
This Seattle company donates 10 percent of the net profits from their beeswax candle sales to organizations dedicated to outreach, education, and efforts devoted to promoting sustainable beekeeping.
The Mason Bee Revolution
Co-authored by one of Taste's editors, this book offers advice for keeping mason and leafcutter bees, along with tips on bee-friendly gardening and information on wild pollinators across North America.