Updating a classic
This article was originally published in June 2016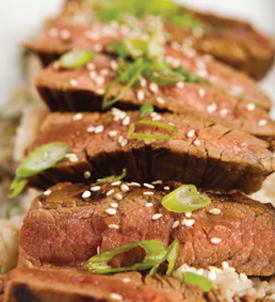 We've carried Country Natural Beef since the '80s, dating back almost to the founding of this Northwest farmer-owned co-op.
Earlier this year, Country Natural Beef announced its decision to become the first national brand of Non-GMO Project Verified beef. The new labels will appear within 18 months — and the process has already begun, as the finishing feed is already Non-GMO Project Verified.
While the ranchers have been working on updating their practices, we've taken a classic beef recipe that dates back to the '30s and updated it for 21st century Seattle. London Broil, made with top round beef, tastes best when not cooked past medium-rare.
Sesame-Ginger London Broil
Cooked to medium-rare and sliced against the grain, London Broil is a terrific way of preparing top round. This version combines sesame oil, fresh ginger, tamari and a touch of chili paste in the marinade, and it's basted with a touch of butter at the end of cooking just like a classic London Broil.