DIY condiments
This article was originally published in June 2016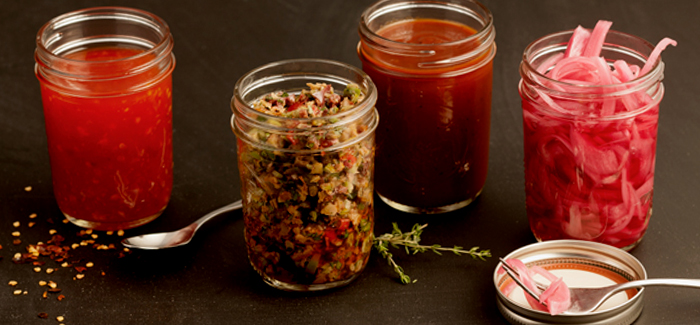 Sure, bottled condiments are convenient, but the taste of fresh, made-from-scratch sauces, spreads and toppings is hard to beat, bar none. Ketchup, mustard and mayo always will be ol' standbys, but get adventurous this summer with flavorful condiments that will take your favorite grilled items to the next level.
Kalamatas or Castelvetranos are well matched for this spread. Add a dollop to grilled chicken or fish, or jazz up picnic sandwiches. This tapenade also makes a great dip for alfresco dining, paired with crackers, pita or veggies.
Pickling onions softens their bite but adds an extra dimension of flavor. They can transform burgers and grilled sausages, and their tangy taste is great on tacos. Toss them into a salad for delicious texture or enjoy them with smoked salmon.
A perfect combination of smoky and sweet thanks to ancho chiles and apricots, this sauce is a lively glaze for grilled shrimp, pork or chicken. It also pairs well with grilled tempeh or tofu.
Containing only five ingredients, this simple sauce is great with spring rolls or drizzled over grilled veggies. You can add a tablespoon of it to your favorite vinaigrette to kick your salad up a notch. And it's a good match for grilled chicken or fish!
Bottling your condiments
Get your condiments to last longer in the fridge by always using clean utensils and sterilizing your jars.
To sterilize jars: Wash jars, bands and lids in hot, soapy water. Place empty jars in a large pot and completely cover with water. Bring to a boil over high heat, and then boil for 10 minutes. Turn off the heat and leave in the hot water for up to 1 hour before filling.