Tangled up in blue
This article was originally published in June 2016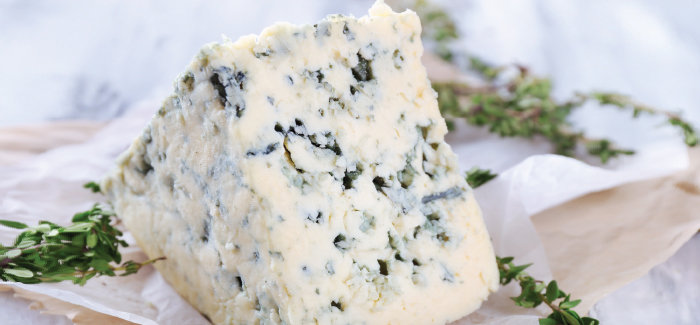 Strong and stinky, blue cheese complements a wide array of foods despite its bold taste. Its pungency adds a kick to starches, such as pasta and potatoes while its saltiness is a beautiful match for fruit. Blue cheese's bite also plays well in spicy recipes, where it helps temper the heat. Each variety of blue cheese (and there are many) offers unique nuance and flavor, depending on the kind of milk used and how it was aged. You'll find a number of options at PCC, from locally made wedges to others whose designation of origin is protected. Here's a list to get you started.
Cascadia Creamery Glacier Blue
Called "the Gateway Blue" by locals, this cheese is a fantastic starting point for those learning to like blue. Handcrafted from raw cow's milk in Trout Lake, Wash., it's certified organic and approachable, with a rich, savory flavor.
Rogue Creamery Smokey Blue
The world's first smoked blue cheese, Smokey Blue is gently cold-smoked over shells from Oregon hazelnuts to give it a flavor that is reminiscent of candied bacon. Made from cow's milk in Central Point, Ore., it tastes of rich crème brulee with toasted campfire.
Roquefort Papillon
Known as the king of blue, Roquefort is a sheep milk cheese from the Combalou caves in the south of France, where its name and methods have been protected since 1411. Crumbly and slightly moist, Roquefort has a sharp tang and salty finish.
Bleu d'Auvergne
Developed in the mid-1850s by a French cheesemaker, this blue hailing from the Auvergne region of south-central France also has a protected origin. Less salty than many blues, this cheese is creamy with a buttery taste and moist texture.
Cambozola
Originating in Germany, this cow's milk cheese is a combination of a French soft-ripened triple cream cheese and Italian Gorgonzola. The extra cream softens the sharpness of the blue, creating a cheese with a rich, silky texture. Think of it as a blue Brie.
Delicious ways to use blue cheese
Check out our favorite recipes that use blue cheese, including Grilled Apricots with Smokey Blue Cheese and Almonds, and Fried Chicken Salad.