Celebrate with great cake
This article was originally published in June 2015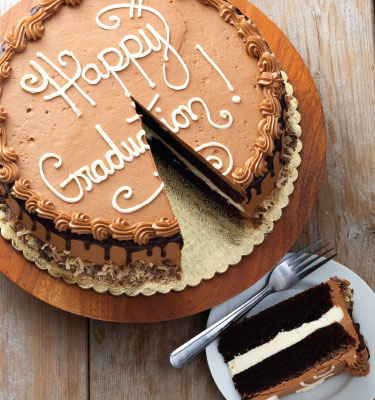 When you're celebrating a special occasion, the dessert should measure up to the sweetness of the moment at hand. Our new options provide the tools you need to customize a cake to your heart's content, from pretty garnishes to the delicious mix-and-match flavor combinations.
Great ingredients you'll be proud to serve
Our bakery isn't certified gluten-free or nut-free, but we offer a range of special recipes, including vegan frostings and cakes, nut-free carrot cake and wheat-free cakes.
Cage-free organic eggs
The whole eggs we use in our cakes are from hens living in a healthier cage-free environment; organic standards give these birds more personal space than most other egg labels.
Organic flour
For our classic recipes, we use certified organic unbleached wheat flour; for our wheat-free recipes, we feature certified organic brown rice flour.
Organic cane sugar
We've chosen to avoid the more common types of sugar from GMO sugar beets and corn in our cakes, opting for pure sugar
cane grown in certified organic fields.
Carrot Cake
Our most popular cake! Our version of this generations-old classic recipe includes both pineapple and raisins, along with abundant freshly grated organic carrots. It's available in traditional or vegan versions, with your choice of cream cheese frosting or vegan vanilla frosting, and optional chopped walnuts as a decoration.
Chocolate & Vanilla Cakes
Our rich chocolate and delicate white cakes have recipe options for almost everyone: vegan, wheat-free or traditional, with frosting choices from festive pink-tinted vanilla to sophisticated espresso, plus optional fillings like coconut cream. They're available in a complete size range, from mini cupcakes up to a half-sheet (11- by 15-inches).
Cupcakes
Need cupcakes? No worries! Most of our cake flavors are available in petite portions, and some are also available as mini cupcakes. Give our tasty lemon cupcakes a try — they're delicious with our traditional Swiss meringue lemon buttercream. Cupcakes come by the dozen, regardless of size.
How to order
We've updated our bakery order form, giving you the freedom to match your favorite cake with the ideal frosting and size. Luscious fillings like German chocolate, raspberry jam and lemon curd add the perfect finishing touch, and you can add up to two decorative garnishes at no extra charge. Place your order in-store, or visit online.