Get to know local
This article was originally published in June 2015
We're always seeking out connections with local producers; it's something we've made a point of for decades. From our nearly 20-year relationship with Full Circle Farms to our newly discovered Jacobs Creamery, we're proud to support these dedicated Washington producers.
---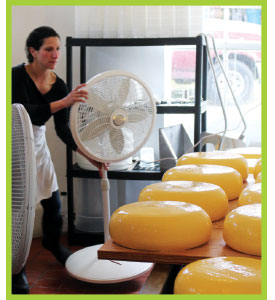 Jacobs Creamery
Started in 2007 by Lisa Jacobs, this Chehalis-based creamery is a new addition to PCC, and one we're delighted to offer: We're the only retailer in the area to carry their exceptional gouda and we also offer their salted butter.
Jacobs' gouda-making process varies from traditional techniques in that she coats each wheel in a breathable glaze rather than a full wax, so it maintains its moisture during the 12- to 18-month aging process. The result is a densely rich cheese with lightly sweet, floral notes. The butter is hand-churned and uses a special blend of cultures for added depth; the salt used is a blend of three, including Jacobsen Salt Co. hand-harvested salt from Oregon. This artisanal butter is a lovely treat spread on great bread or baked into shortbread.
---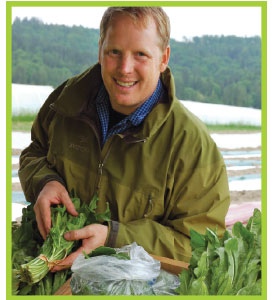 Full Circle Farms
PCC's relationship with this King County farm began back in 1996; we were among the first grocery stores to buy fresh produce from the husband-and-wife team of Andrew Stout and Wendy Munroe. Today, they're much more widely known as a CSA, with multiple West Coast partnerships and delivery to four states (including Alaska), but we still connect with them directly for tender, extraordinarily fresh salad mix, seasonal herbs and a broad spectrum of row crops that thrive in their farm's fertile river valley soil.
Andrew also has a deep connection to agricultural standards and policies: he's a board member of PCC Farmland Trust, as well as a founding board member of the National Farmers Market Coalition, and serves with both his local Tilth chapter (Sno Valley) and the Washington Tilth Association.
---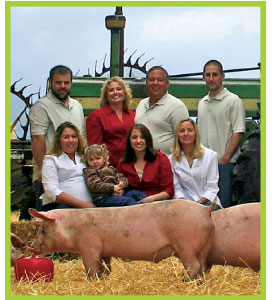 Pure Country Pork
This fifth-generation family ranch covers 100 acres in Ephrata, Wash. It's near the Columbia River, so the land is awash in sunshine and fresh breezes for the hogs to enjoy; sows and their offspring aren't confined and have plenty of open space and natural bedding. The Klingeman family raises their charges on a mix of local peas, barley, wheat and triticale, an intentional switch from the industrial corn and soy mix.
Pure Country Pork was the first meat producer in the United States to enroll in the Non-GMO Project. This means the Klingemans have instituted best practices to reduce the risk that the hogs' feed could be contaminated with genetically modified crops. They've also been Food Alliance Certified since 2007, the year that PCC began carrying their succulent pork.