What's in store for July
This article was originally published in July 2011
A sampling of the thousands of all-natural items you'll find at your neighborhood PCC. Also explore the newest products to grace our shelves.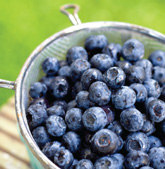 In the produce department


Sweet blueberries

In pancakes, atop desserts, blended into smoothies, nestled within salads, eaten out of hand: Blueberries lend their tangy goodness to so many culinary endeavors. These antioxidant-rich powerhouses are an excellent source of vitamin C and manganese and a good source of other essential nutrients that contribute to overall wellness.

Choose blueberries that are firm and indigo blue with a silvery bloom. Wash just before serving. To freeze, place fresh, unwashed berries in a single layer on a cookie sheet. Once frozen, transfer them to a re-sealable container and store. Our fresh, local blueberries are grown by LaPierre Farms in Zillah, Wash., and Hopewell Farm in Everson, Wash.
---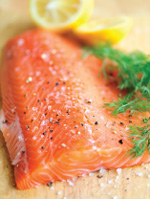 In the seafood department


Wild Alaskan sockeye salmon

When the hours of daylight lengthen and linger it's time for an abundance of fresh, wild sockeye salmon to arrive from the untamed rivers and seas of Alaska. Prized for its flavor and health benefits, wild Alaskan salmon is one of nature's powerhouse foods, replete with heart-healthy omega-3 fatty acids (which help boost heart health and improve mood). Wild salmon also offers vitamins B6 and B12 and magnesium.

Our wild sockeye bears a deep, reddish color and plenty of natural oils formed during a lifetime of swimming along chilly waterways. Choose from simply lovely fresh fillets or from our pre-seasoned Natural Express line (all-natural flavors include Garlic Herb, Seattle Chef Tom Douglas' Salmon Rub or Lemon Pepper), all ready to take home and place on the grill.
---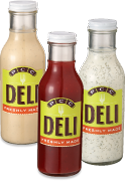 In the deli


Deli dressings

You already enjoy them in our impossibly fresh deli salads. Now, take home the all-natural goodness of our freshly made PCC salad dressings to enjoy any time! You'll find a selection of delightful flavors in-store, including our Raspberry Vinaigrette, Vegan Caesar, Lemon Tahini and Goldie's Dressing, named for nutrition educator and PCC Cooks founder Goldie Caughlan.

Each batch is made in our delis and is free of high-fructose corn syrup. Rather than plastic containers, you'll find them chilled in 12-ounce glass bottles. "We're always trying to reduce plastic wherever we can," says Leon Bloom, our deli merchandiser.