Chatterbox for July
by Karen Gaudette(@nwfoodette on Twitter)
This article was originally published in July 2011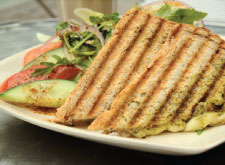 How to make grilled cheese to please? You offered oodles of options via Facebook and Twitter. Amber Berry wrote that she prefers Swiss cheese on rye with mustard, to which she adds thinly sliced tomato and dill pickle after grilling.
Christina Hannan wrote with a sweeter suggestion: Chèvre or a similar goat cheese and dark chocolate (preferably Theo) grilled on sourdough. Faith Gundran offered a vegan option: Daiya and sliced apples on Dave's Killer Bread.
Our healthy cooking video partner, Cookus Interruptus recommends grilling up a sandwich with smoked salmon, Bubbie's sauerkraut and Havarti.
News of our 10th and newest location (east Green Lake, slated to open in 2013 at the former Vitamilk Dairy site), was met with cheers and also requests for additional locations. Among those you mentioned: Lynnwood, Mukilteo, Mill Creek, Capitol Hill, Tacoma, Kitsap County… even St. Louis and Denver! Says our PCC Board Administrator, Janice Parker: "We are in a period of measured growth, so we act with all due prudence in selecting new sites, with many factors weighing into a decision… We actually would love to see a PCC store in every neighborhood that wants and can support one." Read all about the future store »
Disappointed that you didn't register in time for the PCC Cooks class you wanted? Those who connect with PCC Cooks on Facebook hear first about last-minute cancellations and added sessions. Join in the fun! facebook.com/pcccooks.