Iced tea time
by Karen Gaudette
This article was originally published in July 2011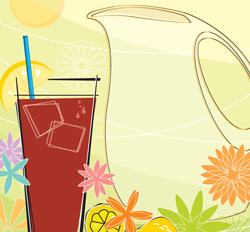 Perkier than water and milder than soda, iced tea delivers a refreshing happy medium on hot summer days, with new blends and options emerging quicker than we can sip.
For years, iced tea drinkers took it Southern sweet or British brisk, lemon wedges afloat in cups or glasses with ice that sloshed and tinkled with each sip. Now, fans can choose traditional favorites or intriguing varieties including earthy pu-erh, flowery jasmine and lofty white teas, each infused or blended with various fruits, herbs and fellow teas.
Much of PCC's selection is derived from organic or fairly traded tea and/or culinary herbs for pure, satisfying flavor. Our energizing iced green and oolong teas offer a healthy energy boost any time of day and pair well with salads, Asian-inspired cuisine from our deli and seafood. Reach for Teas'Tea Jasmine Green or Golden Oolong, Ito En's Sencha Shot and Oolong Shot, Tazo Tea's Giant Peach Green Tea and Honest Tea's Peach Oo-la-long.
Look to yerba mate blends like Empower Mint and Pure Passion from Guayaki for an all-natural afternoon pick-me-up. It's the herbal beverage of choice for many in South America, robust, earthy and friendly. On the other end of the spectrum, light, bright white teas, like Honest Tea's Pearfect White or Tazo Tea's White Cranberry, are an ideal choice for those whose taste buds prefer to take it easy and let the fruit do the talking.
Brew your own batch at home by the glass or by the pitcher with cold brew tea bags. Celestial Seasonings offers four fruity flavors. Twinings of London offers English Classic, a traditional black that's an ideal blank slate for concocting your own blends.