Dress it up
by Lydia Cox
This article was originally published in July 2011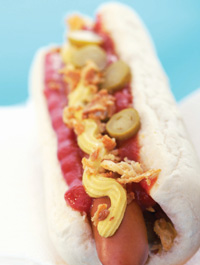 Whether you go crazy with hot sauces, keep 10-plus bottles of dressing inside your refrigerator door, or stick with ketchup and nothing else, we have all the condiments you need to provide pizzazz and oomph to your dogs, burgers and sandwiches.
Grab the mayo jar
You'll find this rich, creamy spread made with canola oil, soy oil, olive oil, safflower oil, even omega-3-rich flax oil. Looking for an egg-free alternative, or just a lighter option? Enjoy tasty possibilities in Follow Your Heart's Vegenaise and Nasoya's Nayonaise.
"Get out the rye bread and mustard"
Dijon, honey, yellow, stoneground — add zing with organic mustard options from Annie's Naturals and Eden Organic. Sierra Nevada Brewing Co. offers a trio of mustards as well, each crafted with their hearty, high-quality beer. Pale Ale & Honey Spice has a touch of sweet, Porter & Spicy Brown packs a little heat, and Stout & Stoneground offers a robust, vibrant flavor.
In a pickle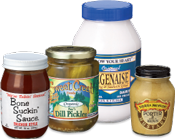 According to Pickle Packers International Inc., Americans consume more than nine pounds of pickles per person annually. That's a whole lotta pickles. You'll find options at PCC made the old-fashioned way: Sweet Creek Foods in Elmira, Ore. uses spiced apple cider vinegar to pickle their cucumbers and then hand-packs them into each jar. Enjoy organic Garlic Dills, Chili Dills, and Bread & Butter pickles as well as organic Sweet Relish. Also try pickles from Bubbies and Woodstock Farms.
Slather away
The name says it all — Bone Suckin' Sauce will liven up anything you throw on the grill, from chicken to ribs to pork chops. This barbecue sauce is tomato-based and sweetened with honey, molasses and spices. If you like a little heat in your barbecue sauce, turn to Annie's Naturals Organic Hot Chipotle BBQ Sauce. Also from Annie's: Organic Smokey Maple BBQ Sauce and Organic Sweet & Spicy BBQ Sauce.
More pickled products and other miscellany
We've reached just the tip of the iceberg when it comes to our selection of condiments. Choose from naturally fermented sauerkraut, kimchi, locally made tartar sauce from Captain Toady's, roasted red peppers and marinated artichokes from locally based Napoleon Co., and so much more. And of course, ketchup that is free of high-fructose corn syrup!