Some like it hot
by Lydia Cox
This article was originally published in February 2011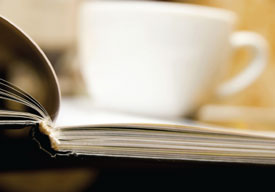 There's nothing like staying indoors curled up with a good book and a warm beverage when it's cold, dark and drizzly outside. At PCC you'll find fantastic ingredients for brewing up a cozy mug of something hot to accompany your favorite read.
---
For a collection of poetry
What's a better way to ponder poetry than by slowly sipping a hot toddy?
Squeeze 1/2 lemon into a mug. Add 1 tablespoon of honey and a shot of your favorite bourbon or whiskey. Pour 1 cup of boiling water into the mug and stir with a cinnamon stick. For a little more flavor, steep a tea bag in the boiling water before adding the water to the mug.
---
For a work of fiction
Whether you're into whole milk or almond milk, really dark chocolate or bright peppermint flavor, hot cocoa can be just as varied as the array of fiction out there. You'll find a great selection of cocoa powders at PCC that are certified organic and fair trade.
Heat 2 cups of your favorite milk in a saucepan and add 2 heaping tablespoons of cocoa powder, whisking to combine. Add 2 tablespoons sugar, stir again, and taste. If you like, add more cocoa or sugar. You may play around with different additions as well, such as vanilla, peppermint, cinnamon or a bit of cayenne.
---
For a travel or adventure book
Transport your taste buds far from home with Moroccan-style mint tea.
Add 1 heaping tablespoon of gunpowder green tea (available in bulk) to 2 cups of boiling water. Add a handful of fresh mint leaves and up to 1/4 cup of sugar, stir and brew for several minutes.
---
For a memoir
Delve into someone else's story with an invigorating cup of chai. Try PCC Cooks instructor Jayesh Rao's recipe for Masala Chai, or pick up a jug of locally brewed Morning Glory Chai. This blend features Indian aromatics and Chinese tonic herbs and teas designed to strengthen the immune system, increase vital energy, improve mental clarity, and warm the body from the inside out.
Combine 2/3 part steamed Morning Glory Chai with 1/3 part steamed milk
of your choice and drink up. Or make an apple chai drop by combining 1/2 part steamed chai with 1/2 part steamed apple cider and an extra dash of cinnamon.
---
For a historical book
Dating back to at least the 15th century, mulled wine is found in different forms around the world.
Place 1/2 cup water, 1/2 cup sugar, 5 cinnamon sticks and 5 whole cloves in a saucepan. Bring to a boil and simmer for 5 to 10 minutes. Add 2 bottles of dry red wine along with 1 sliced lemon and 1 sliced orange. Simmer for 1 hour. Strain fruit and spices before enjoying.