What to do in February
by Karen Gaudette
This article was originally published in February 2011
A month when winter's grasp can sometimes feel eternal. But rather than fight winter, embrace it as a season for great books, adventures in the snowy mountains, movie watching, craft making, wine sipping, recipe learning.
Coming into season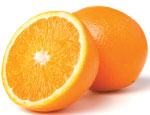 Light and refreshing Cara Cara navel oranges; Minneola tangelos; Blood oranges; Meyer lemons; Pomelos (an ancestor of the grapefruit); and Clementine tangerines. Citrus fans, it's a great time to preserve, candy, bake pies, tarts and tortes, and simmer syrups with all that juicy fruit. Try this easy Lemon Tart recipe. Last chance for: Local and organic Asian, Bosc and D'Anjou pears; parsnips.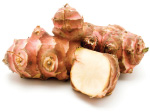 Try sunchokes
The sun may not be shining much, but sunchokes are out. Also known as Jerusalem artichokes, sunchoke tubers resemble ginger root and offer a delicate flavor that's slightly nutty, similar to jicama and water chestnuts. Use them where you would turnips or parsnips, or let them stand in for potatoes in potato pancakes. They also can be eaten raw in salads or boiled and steamed to serve as a side dish. Ideal seasonings include nutmeg, clove, cinnamon, onions and cream.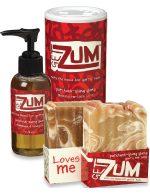 Treat your skin to loveliness
We always can rely on skincare producer Indigo Wild to inject fun into any holiday, and Valentine's Day is no exception. Look in-store for their Zum line of February specialties, including Zum Love Kiss lip balm in peppermint, and Get Zum soap, bath salts and massage oil in Patchouli Ylang Ylang.
All of Indigo Wild's body care products are handpoured and -crafted in Kansas City, Mo., from ingredients easy to pronounce and easy to enjoy, like goat's milk, pure essential oils, glycerin, shea butter, soy wax, certified organic botanical extracts and meadowfoam seed oil. Enjoy their deliciously rich lotions, bath salts, massage oils, soaps and lip balms in
a host of pleasing scents all year 'round!
Wake up to the sweet scent of cinnamon rolls
You'll find several varieties in our bakery. Gluten-free? Try Udi's tender and fragrant cinnamon rolls. Or, warm your house (and your belly after a trip to the mountains) with the scent of Immaculate Baking Co.'s cinnamon rolls — pop them out of the tube, bake, and top with the included icing. Yum!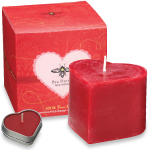 Light up the night
Infuse your abode with the cozy scent of all-natural beeswax candles from Seattle-based Big Dipper Waxworks. These beauties are crafted with essential oils like cinnamon, lavender and geranium for a fragrance that's calming rather than cloying. Look for heart-shaped pillars, special heart-shaped tins for travel, and glass votives etched with flowers — thoughtful gifts
and also perfect, locally made wedding favors!