What's in store for February
This article was originally published in February 2011
A sampling of the thousands of all-natural items you'll find at your neighborhood PCC. Also explore the newest products to grace our shelves.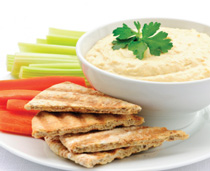 In the deli


Get dipping, easy appetizer ideas

Add a flavorful punch to any party or gathering with our freshly made dips from the PCC Deli. We offer tantalizing options to help you create effortless appetizer trays.
Make Mediterranean quesadillas that can be cut into bite-size pieces by combining our Black Bean Hummus with our Feta and Sun-dried Tomato Spread.
Grab a favorite bag of chips and get dipping with our fresh salsa and guacamole.
Pair crackers and fresh vegetables with our Gorgonzola and Pecan Spread or Vegan Cashew Spread.
Keep your eyes peeled for our latest dip creations, including Roasted Veggie Mascarpone, Devonshire Cream and a classic Spinach Dip.
---

In the beer case


Local suds to quench your thirst

Former West Seattle PCC employee Heather McClung realized her dream of great hops and malt with the founding of local microbrewery Schooner EXACT. Her beer is pure Northwest in character, as clean as a Cascade stream, with bright hops reminiscent of spruce and fir, and a rich, warm, agile maltiness. In the past you had to visit your friendly neighborhood tavern to enjoy her delicious brews, but now you'll find Schooner EXACT's 3-Grid IPA, Regrade Pale, and new Hopvine IPA (34 oz returnable bottle) at PCC locations. It just doesn't get more local than that.
---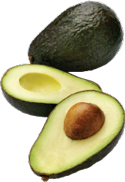 In the produce department


Amazing avocados

Aside from Cinco de Mayo, Americans consume more avocados on Super Bowl Sunday than any other day of the year. We're talking enough guacamole to cover a football field waist deep. Along with their rich, buttery flavor, avocados are packed with healthy monounsaturated fats, vitamin K, fiber and potassium. This fruit also helps your body absorb carotenoids — such as beta-carotene, lycopene and lutein — found in other vegetables. You'll find Hass avocados in the PCC produce department in February, which have rugged, pebbly, brown-black skin.