Cooking Technique: Gratin
This article was originally published in November 2017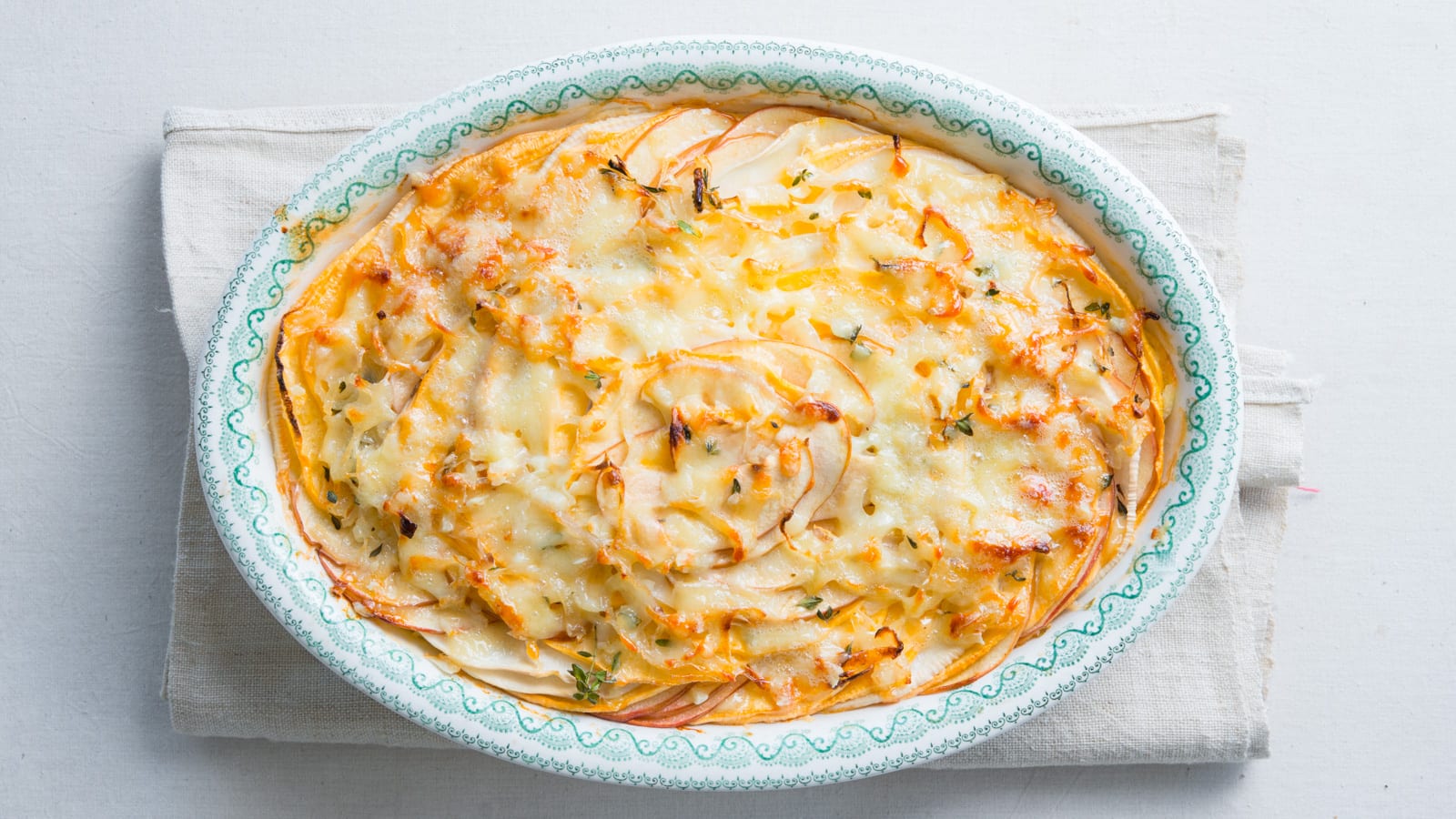 Derived from the French verb gratiner — to broil — gratin is a process that involves topping a dish with either cheese or buttery breadcrumbs and baking or broiling until crispy.
While potatoes au gratin is most traditional, the contents beneath the golden crust can vary widely. In addition to hardy vegetables, the filling can include leafy greens, such as kale, chard and spinach, or even ingredients like seafood, beans or rice.
Follow our basic technique to make your own gratin this holiday season, or let us make it from scratch for you and pick up our new PCC Winter Greens Gratin in the deli for a ready-to-heat side.
STEP 1 : THINLY SLICE AND LAYER VEGGIES
The best gratin potatoes are medium-starch, such as Yukon Golds. Root vegetables, like parsnips or celeriac, and winter squash also work well. Thinly slice your vegetables evenly and layer in a buttered baking dish. Season with salt and pepper. Add fresh herbs or spices for an extra flavor punch.
STEP 2: CREATE THE SAUCE
For a classic gratin, use heavy cream or a mix of cream and milk. Altogether, you'll want about 2 cups. Infuse it with extra flavor by simmering it first with garlic cloves, freshly grated nutmeg or fresh herbs. Pour the sauce over the vegetables.
STEP 3: TOP IT OFF
To get the official "au gratin" topping, reach for something that will brown nicely in the oven. Dot your filling with butter, sprinkle it with breadcrumbs, or pile it with shredded cheese. Gruyère is a classic option, but any melty cheese will work. Add grated Parmesan for extra flavor.
STEP 4: BAKE UNTIL BUBBLY
Bake the gratin at 400° F for about 30 minutes until browned and bubbly and the vegetables are tender when poked with a fork.
3 FILLINGS TO TRY
• sweet potatoes, caramelized onions, sage, Comté
• cauliflower, Brussels sprouts, toasted pine nuts, Parmesan
• apples, parsnips, turnips, thyme, Gruyère