Noodling Around with Spaghetti Squash
This article was originally published in September 2017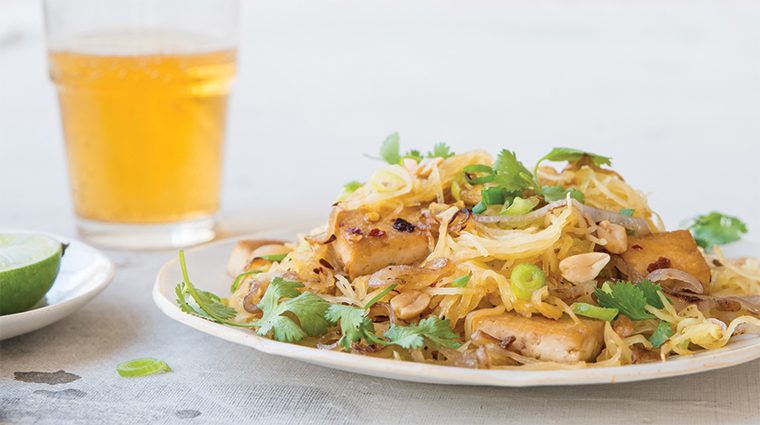 In recent years, spiralized squash has found its way onto menus as a more nutritious stand-in for carb-dense pasta. But before zoodles became commonplace, there was spaghetti squash, and it requires no fancy gadgets at all. With a drizzle of olive oil and some time in the oven, spaghetti squash transforms into tender, noodle-like strands.
---
You've probably eaten your fair share of zucchini fritters, but these savory patties made with bacon, cheese and herbs will next-level your breakfast. Top with fried eggs for a beautiful and satisfying one-dish meal.
This take on pad Thai, usually made with rice noodles, brings together traditional flavors with a more nutritious noodle. Add tofu and gently toss together for a healthier, low-carb option that's still comforting and delicious.
For a delightfully surprising dessert, dig into a slice of this luscious spice cake. Fragrant and moist, the secret to this sweet cake is using five-spice powder. When it cools, a layer of cream cheese frosting adds a nice contrast to its rich flavors.
Timesaver Tip
Roast your squash at the start of the week so it's ready to go when you're short on time.
To roast, preheat oven to 400° F. Cut squash in half lengthwise and remove the seeds.
Line a baking sheet with parchment paper and place squash, cut side down, on the prepared sheet. Roast until fork tender, 45 to 55 minutes.
Let cool slightly, then pull flesh from squash using a fork. Squeeze out excess liquid, and store in an airtight container. It will keep for 3 to 5 days in the refrigerator.