Golden Oldies
This article was originally published in September 2017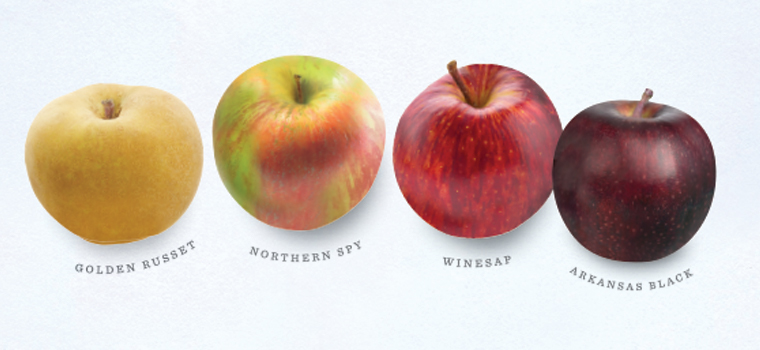 Centuries before Honeycrisp was born at the University of Minnesota in 1991 and long before Red Delicious made its debut at the 1904 World's Fair, heirloom apples ruled the orchard. Often shirking beauty for taste, these historic varieties, also known as "antique" apples, offer complex flavors second to none.
We've partnered with Heirloom Orchards in Hood River, Ore., to bring you four different heirloom varietals. These locally grown beauties have a short season — find them at your neighborhood PCC from October 11 to 24.
Golden Russet » 1701 in New York
An old American cider apple with delicious, sugary juice, this golden bronze fruit is believed to have sprouted from a seed of English Russet. It holds up well when cooked, making it ideal for baking.
Northern Spy » ~1800 in East Bloomfield, N.Y.
This American native gets its moniker from the codename of an Underground Railroad operator, who guided former slaves through New England into Canada. Thin-skinned and aromatic, its flesh is harder and crunchier than most. A consummate pie apple thanks to an especially tart flavor, Northern Spy also is an old favorite for eating out of hand.
Winesap » 1750
Unknown in origin, this deep red apple sired Arkansas Black. Its flesh is a crisp yellow that sometimes features red streaks. With a powerful sweet and sour contrast, its rich flavor is comparable to wine according to many, a flavor that keeps even through baking. Winesap is good for pie, sauce and eating out of hand.
Arkansas Black » 1865 in Benton County, Ark.
Known for a hard, slick exterior, this apple has a lively red color that deepens to a purplish-black when ripe. It's juicy, with a distinctive, aromatic flavor that's sweet but not overpowering. Its firmness holds its shape in baking, but it also makes a great eating apple.
---
NOTE: Due to the recent fires in Eastern Washington and the Columbia Gorge, the heirloom apples we had intended to offer are not available. We have worked with Heirloom Orchards to bring you four other heirloom varietals, which are equally outstanding, historical and delicious. Here's what you'll find in-store.
Cox's Orange Pippin » 1825 in England
Named for its creator Richard Cox — a retired brewer and horticulturist — this apple has a juicy, nutty taste. Its firm flesh makes it a good variety for all around use in cooking, juicing and eating fresh.
King David » 1839 in Missouri, Ark.
Discovered by farmer Ben Frost on a fence row tree in Arkansas, this cream-colored apple has a spicy, almost wine-like flavor. It's perfect for dessert, including pie and applesauce, as well as for making cider.
Ashmead's Kernel » 1701 in England
One of the best of the old European apples from the late 1600s to early 1700s, this apple has an outstanding rich flavor with a bold, tart but sugary taste. It's good for eating fresh, juicing and cider making.
Orleans Reinette » 1776 in France
This smaller-sized apple has a creamy white flesh and tastes of sweet orange followed by a walnut-like flavor. It can be enjoyed as an eating apple but also keeps its shape when cooked, making it ideal for baking.