DIY Instant Noodles
This article was originally published in April 2017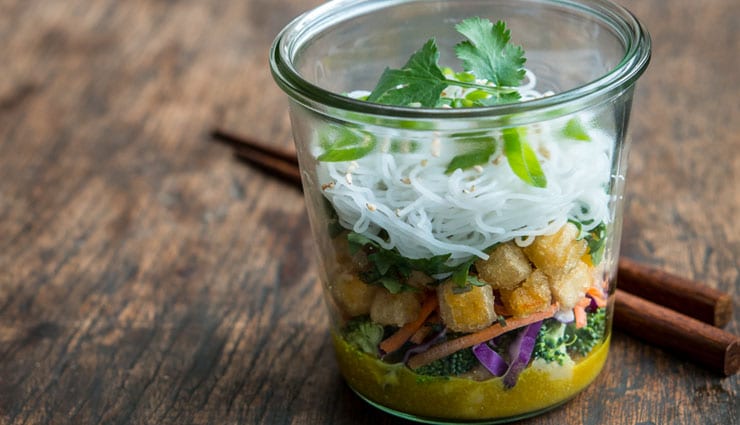 A longtime staple for scores of young people, instant noodles offer a warm, salty comfort that's convenient and cost-friendly. While most ramen packages are loaded with artificial ingredients and little nutrition, it's easy to build your own instant noodle jars filled with real, wholesome flavors. Assemble several jars at the start of the week and enjoy satisfying lunch option for days by simply adding hot water.
Mason jars with lids work great but feel free to use any heatproof reusable container. The method is simple and incredibly versatile, giving you room to experiment and adjust according to your tastes. Layer 1 should be at the bottom of the jar and Layer 4 at the very top of the jar. When you're ready to eat, add boiling water, let sit for a few minutes and dig in.
Layer 1
Flavor base
A concentrated stock paste, such as Better Than Bouillon, truly is the key to a flavorful, savory broth. All you need is a tablespoon but it's easy to further build flavor with the addition of miso or curry pastes, or by adding a dollop of garlic or plum sauce, dash of hot sauce or glug of tamari.
Layer 2
Veggies/Protein
Keep in mind anything you add to your cup won't get cooked. As a result, grate or julienne firmer vegetables, such as carrots or cabbage. Mushrooms and hearty greens, such as spinach and kale, can be thinly sliced. Frozen veggies, like corn, peas and edamame, work really well, too. When it comes to protein, this is a great way to use leftover cooked meat — think roast chicken. Diced tofu makes a nice veggie alternative.
Layer 3
Noodles
Vermicelli (rice) noodles are a solid option because all they need is a little hot water and don't have to be cooked in advance. Otherwise you can par-cook any dried pasta you have on hand, whether it's ramen, udon or soba. At PCC, you'll find packs of organic ramen "cakes" from Lotus Foods.
Layer 4
Flavor packet
Add a few fresh ingredients for added flavor. Think cilantro or other herbs, sliced green onions, bean sprouts, grated ginger, sesame seeds or a squeeze of lime. In order to keep these items fresh, it's best to store them separately in a small Ziploc bag that can be tucked into the top of the jar, removed and then mixed in after you add hot water.
Want to know what increments to use? Get the basic recipe for our Instant Noodle Cup.