Relax with lemon balm
This article was originally published in November 2015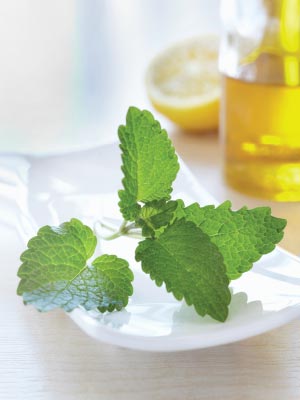 It's easy to succumb to stress amid the hustle and bustle of the holiday season. From family gatherings to office parties, our schedules can run amok during the most wonderful time of the year. Fortunately there are low impact ways to combat stress with the help of herbs.
Lemon balm has been used for centuries to reduce stress and anxiety and promote sleep. A member of the mint family, lemon balm appears to provide a sense of balance for the nervous system, helping to induce feelings of calmness.
While most scientific research thus far has studied lemon balm's effects in combination with other herbs such as valerian, chamomile and hops, preliminary results seem to indicate that lemon balm indeed has a calming effect that can help alleviate stress and boost mood. In places like Germany and Canada, lemon balm already has been approved as a sleep aid.
Additionally, lemon balm helps relieve indigestion, an effect that can come in handy as we feast throughout November and December.
At PCC, you'll find a variety of products in our health and body care department that contain lemon balm.
Great products at PCC
Tinctures
Herb Pharm Lemon Balm Blend & Herb Pharm Kids Lemon Balm Calm Glycerite
Herb Pharm organically grows lemon balm on its farm in Williams, Ore., and then creates an extract for these tinctures. The kids' tincture is alcohol free and helps support nervousness and over-excitement in little ones.
Capsules
Oregon's Wild Harvest Lemon Balm
These vegetarian capsules contain a single ingredient — certified organic lemon balm leaf.
New Chapter Lemon Balm Force
These one-a-day vegetarian capsules are Non-GMO Project Verified.
Oil
Aura Cacia Precious Lemon Balm Essential Oil
With a sweet, herbaceous scent, this oil contains a blend of lemon balm and jojoba oil so it can be applied directly to your skin.
Tea
Traditional Medicinals Organic Lemon Balm
Located in the grocery department, this tea has a pleasantly mild herbal taste with subtle citrus notes. It's Non-GMO Project Verified and certified organic.