Better bean salads
This article was originally published in June 2015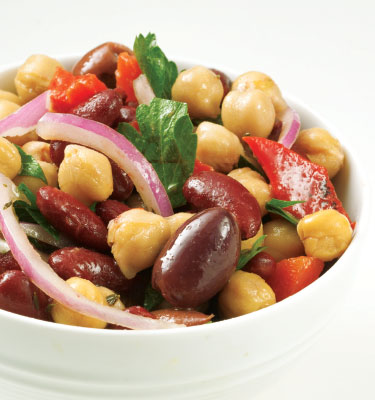 Cool, creamy beans are perfect playmates for potluck salads and picnic dishes. Light yet satisfying, bean salads are easy to prepare and require little to no cooking. Make them the star of your meal and avoid bland, mushy salads by following a few simple pointers.
The flavor and texture of dried beans are superior to that of canned. If you have the time, consider cooking your beans from scratch. Learn how. If using canned beans, rinse them thoroughly to remove any liquid from the can and drain.
Beans can be boring on their own so infusing big, bold flavors into your salad is key. Tangy vinaigrettes, citrus juice and/or zest, and fresh herbs and garlic are great ways to punch up the flavor. The addition of veggies can add texture and various layers of crunch.
Making bean salads in advance and refrigerating them gives the flavors a chance to meld. Just be sure to allow the salad to return to almost room temperature before serving so the flavors have a chance to blossom and the beans can become tender again.
3 to try from the PCC Deli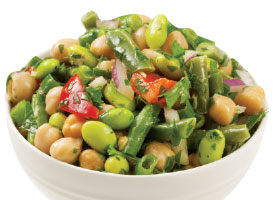 Three Bean Salad
Green beans greet garbanzos and edamame in this crisp, colorful dish that is dressed with olive oil, infused with lemon zest and finished with red bell peppers and oregano.
---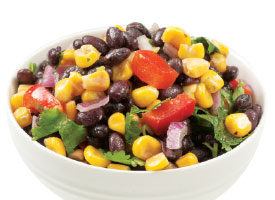 Black Bean and Corn Salad
A cumin-lime dressing embraces black beans and corn, crunchy red bell peppers, red onions and chopped cilantro in this bright salad.
---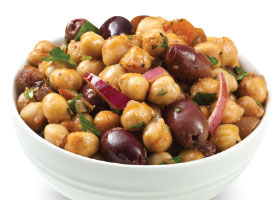 Turkish Garbanzo Salad
Garbanzo beans mingle in a tart marinade of red wine vinegar, paprika, Dijon and garlic that is balanced out by sweet dried apricots. Kalamata olives round out this popular summertime dish.