Cooking in parchment
This article was originally published in March 2015
Known as "en papillote," cooking in parchment paper is a delightfully simple method that yields healthy, flavorful results. Great for seafood, poultry and vegetables, the food steams inside the parchment while it bakes in the oven. The outcome is a juicy, nutritious meal that looks fantastic too.
Four simple steps
Cooking in parchment is a great technique for a single serving but also is fun for a group or family as everyone gets his/her own individual packet.
Step 1
For each packet, begin with an 18- by 13-inch piece of parchment. Fold it in half and cut out a large heart shape. Arrange vegetables on one side of the parchment paper. Lay protein on top of the vegetables, sprinkle with salt and pepper and drizzle with a little olive oil. Add herbs and/or other seasonings and sauces.
Step 2
Beginning at the top of the heart, make small, overlapping folds, picking up both sides of the paper. Crease the folds well and make sure each new fold overlaps the previous fold. Twist the tail end under to seal. It's important to make sure the parchment packet is completely closed — crimping helps seal it shut. The goal is to prevent steam from escaping while the food cooks.
Step 3
Preheat oven to 425° F. Transfer the packet(s) to a baking sheet. Bake until the protein is cooked through and the packets are puffed and starting to color, 12 to 14 minutes.
Step 4
Transfer packets to serving plates and use scissors to cut a small "X" in the top of each packet. Tear open carefully (the packets will release steam).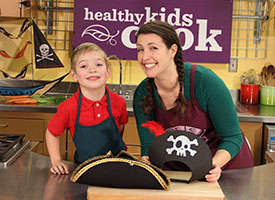 7 tasty fish packets to try
Explore seven different recipes for fish in parchment packets, including Halibut, Kale and Roasted Red Peppers in Parchment; and Tuna, Mushrooms and Ginger in Parchment. Get the recipes »
Watch PCC Chef Jackie Freeman demonstrate how to make seafood parchment packets. Check out the video >>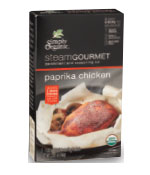 Quick tip
If you want to save on time, pick up a Steam Gourmet Parchment and Seasoning Kit from Simply Organic at your neighborhood PCC. In addition to containing parchment bags that are sized and ready to go, these kits contain organic seasonings — just add protein for a complete entree. Choose from flavor combinations such as Cajun Chicken, Garlic Herb Chicken, Paprika Chicken or Sesame Ginger Salmon.