Keeping our kids healthy for life
This article was originally published in May 2012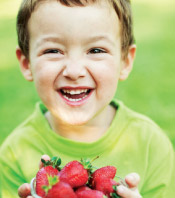 From PCC Kid Picks tasting events at elementary schools to a PCC Healthy Kids Facebook page, our PCC Healthy Kids nutrition initiative continues to reach kids and families in our community.
We've made it our mission to help children focus on healthy foods and fitness. Our programs and community partnerships give children and their families the tools and information they need to choose a healthy lifestyle. At PCC, we are always on the lookout for new ways to partner with our community to bring health education to our children. Here are a few of our many endeavors:
Produce for all — As always, kids visiting PCC can pick a free serving of a fruit or vegetable of their choice. Now we are introducing our fruit and vegetable of the month program, encouraging children to try a variety of produce. This May, the spotlight is on delectable strawberries and succulent asparagus. Join the conversation at facebook.com/pcchealthykids to share your favorite recipes using strawberries or asparagus.
PCC in the parks — PCC Healthy Kids partners with the Seattle Parks Department in myriad ways. We host free family cooking classes at local community centers. The PCC Kid Picks Mobile attends events throughout the community, taste-testing products. And on August 25, PCC will sponsor the Big Day of Play at Magnuson Park. For each activity attendees participate in — from races and dances to water activities — they'll receive a ticket to exchange for a food item at the PCC booth.
Market fun — We donate fresh produce to Solid Ground's Eat Better, Feel Better program, introducing students to an array of healthy fruits and vegetables.