What's in store for May
This article was originally published in May 2012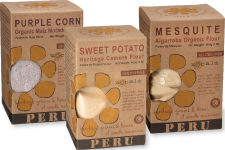 In the grocery aisles


Naturally gluten-free flours

Add the ancient flavors of Peru to your favorite baking recipes with Zócalo Heritage Grains & Flours. You'll find three different flours on our shelves, all of which are naturally gluten free and also free of dairy, soy and genetically engineered ingredients. Sweet Potato Flour is incredibly versatile and helps retain moisture in baked goods; it imparts a slight sweetness. Once a staple of the Incan empire, purple corn has more antioxidants than blueberries. Use Purple Corn Flour wherever you would use regular corn flour or cornmeal. Mesquite Flour adds a warm, sweet, slightly smoky taste to foods and enhances the flavors of cinnamon, chocolate, caramel and coffee. Use as a seasoning, add to soups or create another dimension of flavor in baked goods.
---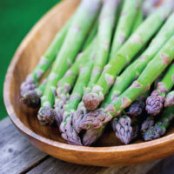 In the produce department


Locally grown asparagus

Tender green stalks of asparagus have been in stores for over a month now, but it's time to celebrate this seasonal spring treat all over again with the new, local crop from Inaba Farms in Wapato, Wash. Asparagus can be prepared in a seemingly endless number of ways: steamed, stir-fried, grilled, roasted and even sliced thin and eaten raw in salads. This delicious member of the lily family also delivers high levels of vitamin K, folate, vitamin C and vitamin A. Visit our asparagus page for a variety of recipes that highlight asparagus, including Organic Asparagus Strata with Zesty Mediterranean Garnish and Roasted Spring Asparagus with Crispy Pancetta in Lemon Balsamic Vinaigrette.
---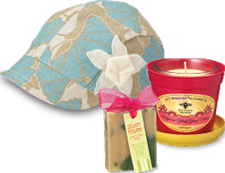 In health and body care


Gifts for mom

Make Mom's day with a little something from PCC. For mothers with a gardening thumb, pick up an herb candle from locally based Big Dipper Wax Works. Each glass flower pot
candle is packaged in a biodegradable planting pot. The candle is made entirely from beeswax and pure essential oils, and each one includes a packet of herb seeds. Add soil to the pot, plant the seeds and enjoy mint, basil or marjoram. Add a little flair to Mom's wardrobe with the new line of spring and summer hats from Flipside Hats in Portland, Ore. Each hat is hand-built, made from up-cycled and sustainably sourced materials. Choose from a number of hip floral prints and other designs. Or pamper your mom with the special Zum Mum product line from Indigo Wild. These handmade products contain pure essential oils of effervescent coriander and lively lime. Choose from a goat's milk soap bar, an aromatherapy room and body mist or a soy candle.