Not-so-basic basics
by Karen Gaudette
This article was originally published in November 2011
Fresh, pure ingredients create holiday meals with incomparable flavor. PCC carries a wealth of these exceptional basics, from organic canned pumpkin to rich, local cream to fragrant, potent spices by the pinch or pound. Stock up on go-to items, and you'll be ready to make each appetizer, dinner and dessert your best yet.
Seasonal standouts
These best-sellers are something to celebrate.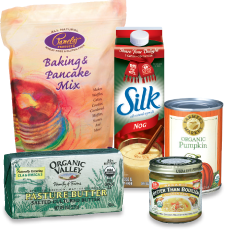 Farmer's Market Organic Pumpkin — Pure pumpkin goodness that's perfect for pies, breads, muffins, cookies and soups.
Organic Valley Pasture Butter — Award-winning salted, cultured butter produced in small batches at the height
of pasture season.
Pamela's Baking & Pancake Mix — An easy-to-use mix for gluten-free pancakes, breads and cakes. A good substitute for flour.
Better Than Bouillon — These concentrated pastes are made primarily with meat, seafood and vegetables for true flavors.
Silk Nog — Smooth, creamy, satisfying, cholesterol-free and vegan soymilk eggnog. Delightful in a latte.
Build and add flavor
Look to organic and all-natural stocks and broths from Imagine, Pacific Natural Foods and other fine purveyors to simmer a satisfying soup on your stove. Nostalgic for rich and creamy green-bean casserole, pot pies and more? Enjoy those traditional flavors with organic condensed soup with no added preservatives or sugar from Pacific in Cream of Celery, Cream of Mushroom and Cream of Chicken.
Spices and seasonings
If you can't recall when you bought your culinary herbs and spices, it's high time to refresh your supply for maximum flavor and potency. PCC's bulk spice section has sage, thyme, mustard seeds, nutmeg, cinnamon and so much more. Head home with just enough for your recipe or stock up for major cooking and baking.
Perfect for pies
Build a delicious experience from the bottom up with Wholly Wholesome Organic Pie Shells, just right for pie or quiche. Prefer to make your own? Reach for Spectrum Organic Shortening in regular and butter flavor. Fill your pie with local fruit from Remlinger Farms frozen at the peak of summer freshness. Top it with pie crust from Immaculate Baking Company. Each PCC carries a selection of packaged raisins, sour cherries, cashews and other organic dried nuts and fruit for easy garnish. For other desserts, Santini Organic condensed milk delivers preservative-free decadence.
Hot holiday sippers
Help support farmers in three countries by cozying up to fair trade and organic Equal Exchange Hot Cocoa, or sip Celestial Seasonings holiday teas in enchanting blends such as Gingerbread Spice, Nutcracker Sweet and Candy Cane Lane.