Soap: favorite skin-friendly suds
This article was originally published in October 2011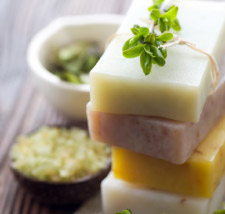 It's ubiquitous, essential and part of our daily lives. Bar soap might seem a little boring; however, the selection you'll find at PCC is anything but.
From bars made with goat's milk to French-milled bars and Fair Trade bars, we have the soap that not only will leave you feeling squeaky-clean but also nourishes your skin in the process, using ingredients from nature.
Go local
About an hour north of Seattle in Arlington, Wash., is Moon Valley Organics. PCC carries several of their handcrafted soaps such as Orange Spice, formulated to condition your skin using the antioxidant-rich organic red palm oil. Chocolate Comfrey restores and softens while the fun Creamsicle bar promotes healthy skin.
From Portland, Ore., comes Camamu Soap — handcrafted, therapeutic soap created to "provide superlative care to the skin." Along with a detoxifying bar called Black Beauty and another bar called Stress Less, they offer shampoo soap bars like Rosemary Nettle that are deeply conditioning and nourishing.
Also from Portland: Oregon Soap Company. This line is new to PCC stores, replacing Ballard Organics, who sadly shut their doors in July. Certified organic, long-lasting and easy on the skin, these bars are available in lovely scents such as Lavender & Comfrey, Tangerine Dream, Zesty Lemongrass, and Forest. Plus for every 10 bars sold, they plant a tree or native plant!
Fan favorites
Everyone has their go-to bar. Some of our customers' favorites include the ever-popular Dr. Bronner's, who offers Certified Fair Trade and organic, pure-castile bar soap made with essential oils. These "all-one" soaps are great for just about anything. Try Peppermint, Tea Tree or Citrus Orange.
For a fantastic moisturizing, calming, subtle soap that will help restore skin, try South of France's Shea Butter bar. This French-milled vegetable soap is vegan and gluten and soy free.
Sappo Hill in Ashland, Ore., makes soap cakes in small batches using a traditional kettle process that carefully blends palm and coconut oil. These simple, straightforward soaps are lovely; try Oatmeal, which smells like oatmeal cookies and contains a generous amount of organic oats.
Or take a trip to the Dead Sea with One With Nature's Dead Sea Salt Soap and Dead Sea Mud Soap, which contain mineral-rich salts and mud with therapeutic properties that deeply cleanse and tone while restoring the skin's natural pH.