Best meats for stew and chili
This article was originally published in October 2011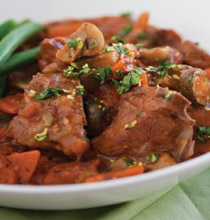 When the weather turns brisk, it's time to braise and simmer and stew. PCC is your source for high-quality, tender and delicious meats just right for your cold-weather stews, soups and chili.
You'll find grass-fed and organic options from trusted ranchers including tender local lamb from Umpqua Valley Lamb, locally raised PCC Organic Chicken, and SunFed Ranch grass-fed or organic grass-fed beef.
Cooking tips: build flavor from scratch
Build layers of flavor with your own chicken stock from scratch, or browse our shelves for wholesome soup stocks from Imagine Foods, Pacific Natural Foods and Rapunzel.
You'll find oodles of squash, mushrooms, potatoes, root vegetables and other fresh, local, organic winter produce, fresh butter and all else you'll want on hand for stellar stewing.