Chatterbox for August
by Karen Gaudette
This article was originally published in August 2011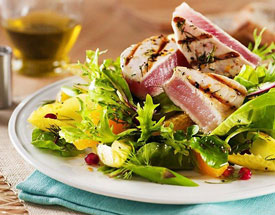 We were delighted to announce this spring that Greenpeace has again rated PCC's sustainable seafood program tops in the nation (read more about the honor). Many of you said the good news wasn't a surprise. PCC was the first retail partner of the Monterey Bay Aquarium Seafood Watch program back in 2004 and only carries seafood that is healthy both for you and the environment. Wrote Jackson A. Loos on Facebook: "The Edmonds fish folks are great! Friendly, helpful ­­— all the things PCC is known for. Outstanding report ­­— makes me want to eat more fish."
Backyard foraging
A Sound Consumer piece about backyard foraging fueled a fun discussion on our Facebook page and on Twitter about favorite finds here in the Northwest. Lisa Constantino wrote that she finds alpine strawberries, Pacific trailing blackberries, blackcap raspberries and huckleberries. Cortney George looks for salmonberries. Check out the story to learn where to look: Dessert could be steps away!
Your local PCC now on Facebook
Each one of our nine PCC locations now has its own Facebook page! Follow your favorite store to hear about upcoming events and product demonstrations, ask questions and find other helpful information. And remember: every three check-ins to the same store on Facebook earns you a tasty, seasonal reward!
Find us on Facebook