Intriguing cuts of beef
This article was originally published in August 2011
Lazy afternoons are an ideal time to experiment on the grill or at your stovetop with different cuts of beef. PCC carries a variety of flavorful options raised on Northwest pastures that are free of added hormones or antibiotics.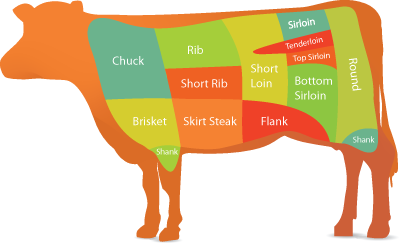 Short ribs — These tough but flavorful ribs call for overnight marinades or long, slow cooking to coax out their tenderness. For a great rainy day meal, take to your kitchen and try this recipe for Braised Short Ribs Over Soft Polenta.
Skirt steak — A deep, rich, beefy flavor makes this thin cut a favorite for carne asada (Mexican-style marinated grilled beef bright with the flavors of citrus juice, garlic and onion). Try any of these simple marinades. Soak meat for several hours or overnight and pat dry before grilling. Slice across the grain and make tacos, sandwiches or lettuce wraps.
Flank steak — This lean, somewhat tough but flavorful cut can be transformed into a mouthwatering meal. It's delicious grilled or sauteed over high heat, as long as it's sliced thinly against the grain at a diagonal (think fajitas). Try this recipe for bright, flavorful Thai Basil Beef.
T-bone — A combination of two lean, tender steaks: the top loin and tenderloin, connected by a telltale T-shaped bone. It's well suited to either grilling or broiling. Try this delicious recipe for Bistecca con Rosmarino e Aglio.
Ensure it's in stock — Call your PCC meat department at least 48 hours in advance and we'll have your cut available.