Get fresh with organic pineapple
This article was originally published in June 2011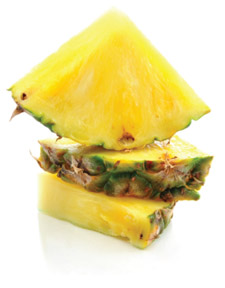 Pineapple offers much more than a glorious taste of the tropics — it's a rich source of manganese, which helps our bodies produce energy. This sweet, fragrant, juicy fruit also promotes a healthy immune system and digestion. In the kitchen, it marries well with sweet, savory, creamy and spicy ingredients alike. Look for fresh organic pineapple at PCC, from Maui and other parts of paradise. Watch this PCC Quick Bites video and learn how to choose a ripe one every time.
Get cooking
Think pineapple to enhance an ingredient's inherent sweetness (such as ham) or to balance bitterness (leafy greens).
Combine fresh or frozen pineapple with shredded, fresh dino kale leaves and blend for an invigorating smoothie.
Sprinkle slabs or hunks of pineapple with chili powder and salt to taste. Grill until lightly browned for a treat that's spicy/salty/sweet.
Pair grilled pineapple with blue cheese in a salad or layer sliced pineapple atop a blue-cheese burger for extra decadence.
Combine diced pineapple and red onion with a seeded serrano chile, cilantro and sea salt for a tropical salsa great atop fish, chicken or pork. Add black beans, corn and cumin for a heartier salsa.
Mix pineapple juice with light soy sauce and brown sugar for a flavorful, tenderizing marinade for chicken, pork or beef.
Pineapple recipes
Find even more inspiration from our recipe box.
By Karen Gaudette, PCC Taste, June 2011