Summer sun protection
by Karen Gaudette
This article was originally published in June 2011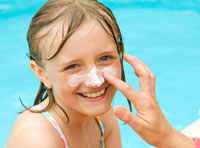 Embrace summer's lingering daylight and protect your skin by smoothing on all-natural, broad-spectrum sun protection, rich with ingredients that nourish while shielding us from the sun's rays.
PCC was the first retailer to sign on to the Campaign for Safe Cosmetics, a project of the Environmental Working Group to eliminate potentially dangerous chemicals from cosmetics and personal care products. Sunscreens we carry are free of ingredients such as petroleum-based chemicals, parabens (synthetic preservatives) and oxybenzone (a potential hormone disruptor). You'll find sun protection from leaders in organic and synthetic-free skin care, including California Baby, Aubrey Organics, Lavera, Badger Healthy Body Care, MyChelle Dermaceuticals, and more.
Don't forget PCC carries a fun selection of sun hats from San Diego Hat Company and UV meters and bracelets for kids and adults from Goddess Garden.
---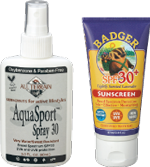 Great for outdoor enthusiasts
All Terrain makes biodegradable sun protection that's sweat- and water-resistant while gentle on skin and eyes.
Badger Healthy Body Care offers sunscreen that's reef-safe and biodegradable, with top ratings for safety and effectiveness from Environmental Working Group's cosmetics safety database.
---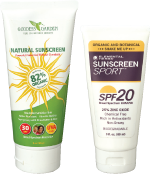 Great for mature skin
Goddess Garden is an organic line founded by a fourth-generation herbalist with soothing ingredients such as fair trade shea butter, aloe and green tea extract.
Elemental Herbs is biodegradable and antioxidant rich with certified organic green tea leaves and rose hips infused in certified organic extra virgin olive oil. Rejuvenates the skin as it protects.
---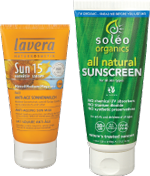 Great for sensitive skin or layering beneath makeup
Lavera is Europe's "greenest" line of sunscreen and also biodegradable and reef-safe, with many anti-aging ingredients, so that it nourishes as it protects.
Soléo Organics sunscreen hails from Australia and is water resistant, biodegradable and nonirritating to the skin. Its micronized zinc technology offers comprehensive sun protection without leaving skin white.
---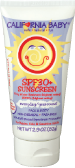 Great for little ones
California Baby offers a tear- and fragrance-free line of sunscreen developed by a mother of two who wanted chemical-free bath and body products for her own children. Tuck their Sunblock Stick into your bag for super portable face protection.
Lavera's Sunscreen Spray (not pictured) makes it easy to cover and protect wriggly kids.