Cool brews for summertime sippin'
This article was originally published in June 2011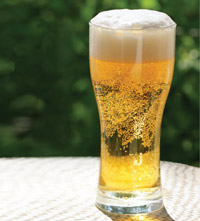 Here are our recommendations for the best beers to accompany grilled recipes and dessert, as well as refreshing suds to quench your thirst during the dog days of summer.
Burgers — A burger provides the perfect opportunity to pull out the proverbial stops with a "bigger" beer. So what could be better than a sturdy IPA, with boatloads of bright hops and supporting malt to play with grilled beef, caramelized onions, etc.? Try local brewery Schooner EXACT's 3-Grid IPA with its big-hop character, or Left Hand Brewing Co.'s 400 Pound Monkey, an earthy, herbal, English-style IPA that's a PCC exclusive.
Salmon — Complement your meal of grilled wild salmon with a quality pale ale. You can't go wrong with Sierra Nevada's Pale Ale, or Pike Brewing's Pike Place Pale Ale, a bright, medium-bodied beer with nutty malt character, deftly balanced with floral hops. Or for a real treat, try a Belgian classic, Saison Dupont, with its stunning complexity and counterpoint of fruity, earthy and yeasty notes — superb!
Grilled vegetables — A well-brewed pilsner is a great companion to grilled vegetables. Crisp hops and a more restrained, elegant malt profile make for refreshment without upstaging the food. Try Bayern Brewing Co.'s Pilsener with its classic, creamy crown and smooth, hoppy flavor, or Lagunitas Pils, a Czech-style pilsner that's clear, fresh and golden, with flavors of toasted malt and a bit of honey.
Dessert — Beer with dessert? But of course. In the warmer months, a nice Belgian Lambic is just the ticket — dry, crisp, with just a kiss of sweet fruit infused. Lindeman's offers an assortment of flavors, including black currant, peach, cherry and raspberry. If your sweet tooth prefers chocolate, think stout. North Coast Brewing Co.'s Old Rasputin is a rich Russian imperial stout with chocolate and coffee aromas; big, complex flavors; and a warming finish.
Brews for everyday quaffing:
Flagship Red – Maritime Pacific Brewing Co.
LTD Pilsner – Full Sail Brewing Co.
Polestar Pilsner – Left Hand Brewing Co.
Summerfest Lager – Sierra Nevada Brewing Co.