Hello, Robin! Meet some great Seattle cookies
By Rebekah Denn, Photos by C. Livingston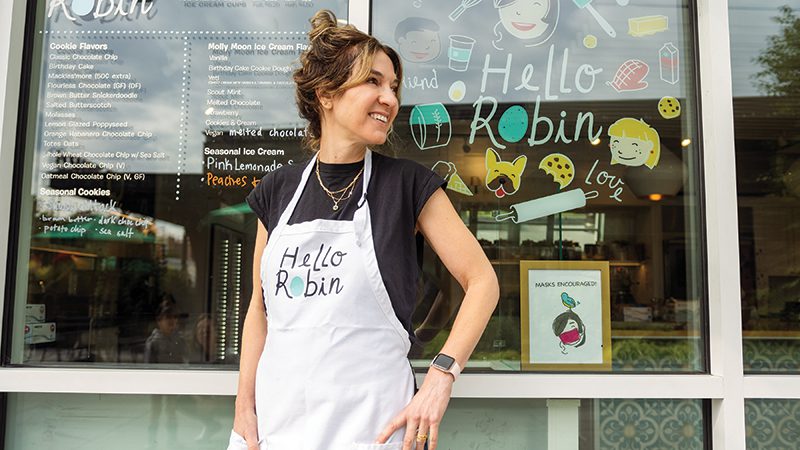 As a passionate and pretty successful home baker, I had just one question for Robin Wehl-Martin: "Why are your cookies so much better than mine?"
Wehl-Martin owns "Hello Robin" cookies, which opened on Capitol Hill in 2013, expanded to a second University Village branch in 2020, and now sells frozen take-and-bake cookie dough at 12 PCC stores. She had some advice on best baking practices (see below), but also one comforting thought:
"I believe with all my heart that if you put the dough in the oven and bake them, you get the credit. You can show up at a party and present Hello Robin (take-and-bake) cookies that you know are going to be good—because they're consistently good, I hope—and say 'I baked these cookies!' and you're not lying."
A generous spirit was behind the business from the start. Wehl-Martin, who grew up on Mercer Island, earned a master's degree in education, with jobs over the years including restaurant work, teaching English as a Second Language, and work with Young Judaea.  Yet "if I had to think about when I was my happiest, it wasn't in a classroom, it was helping customers," she said.
Her childhood included significant kitchen time with her grandmother, Margot Wehl, who fled Germany in World War II and eventually came to Seattle, where she worked in bakeries. "She had no formal training. I have no formal training. It was just my hobby that developed into, when I had my kids…almost like a nervous habit," Wehl-Martin said.
She won blue ribbons at local competitions like the Oddfellows Whoopie Pie Bake-off. Once she'd perfected a recipe, neighbors and friends were often lucky recipients—including one serendipitous contact, ice cream shop owner Molly Moon Neitzel. 
Wehl-Martin was baking, she eventually realized… a… lot.
One day her husband, Clay Martin, asked if she knew how many sticks of butter were in their downstairs freezer.
"14?" she said.
"Guess again."
"36?"
It was 98. 
Around that time, Neitzel's husband Zack texted her that he had a small favor to request.
"I was like, 'OK!" thinking we needed a cake for Molly's birthday or something like that." He said instead, "I need you to open a bakery."
 Somehow, that's exactly what happened.
"I make some of my best decisions where I just say yes and I don't even really know what I'm saying yes to," Wehl-Martin said. The affirmation turned into a charming little shop riffing on her own blue-and-white home kitchen. The name was inspired by a Seinfeld skit.
"We have the island in the middle and people can see what we're doing. I feel like we're, for lack of a better word, a really transparent business," she said.
"There's nothing weird. There's no shortening. There are no junky ingredients."
Dedicated cookie shops aren't that common in this post-Famous Amos/Mrs. Fields era, and even Wehl-Martin's supporters told her "you'll have to sell a lot" to make the business work. She initially thought she'd add a few savory café foods, but Jennifer Shea, founder of Trophy Cupcakes, made her rethink.
"She asked 'So we'll walk in, it's going to smell like soup and salad, is that what you want?' I said no, just like cookies."
A dessert competitor, giving good advice?  "It's not even just Jen, although I can say a million great things about Jen. Business owners in Seattle are, in general, kind and generous people…
"It's not like I'm jealously guarding anything because only one business can do well. It's like we can all do well."
That philosophy did double-duty when the COVID-19 shutdown hit, from a call from Pagliacci Pizza ordering thousands of cookies to give as bonus treats with pizza orders to take-and-bake sales at small outlets and eventually PCC. 
Hello Robin's signature flavors include a plump chocolate chip cookie, snickerdoodles, sprinkle-topped "birthday cake," orange-habanero, an extremely excellent oatmeal cookie that's both gluten-free and vegan, and a "Mackle'smore" with a marshmallow and chocolate square (the orange-habanero and Mackles'more sadly not available as frozen dough—yet. One customer did self-freeze a batch of Mackles'mores and pack a suitcase full to serve them at a wedding, Wehl-Martin said.) There are regular seasonal flavors, and now a commissary kitchen for the take-and-bake doughs. She operates the business with Clay as a full partner; he handles more of the operational logistics while she's on the baking side, though she also works regular retail shifts, running the cash register or filling in wherever else needed.
"I really like working in the stores. I think it's good for the staff to see that I'm not going to ask you to do anything that I wouldn't do, and I really don't ask that, whether it's sweeping the floor—I was scrubbing back behind the counter today—or whatever."
She did have some thoughts on what makes Hello Robin such a standout (or, to quote their Google reviews, "amazing," "incredible," "oomgg fantastic!") and how home bakers might take note:
Size isn't everything. Her cookies are deliberately small, so they're not too filling on their own and you can sample more than one flavor.
Heat and speed: She bakes her dough for a shorter time than most cookie-bakers, and at higher heat (375 degrees rather than 350, for a mere 9 to 12 minutes. At the stores they're baked in a convection oven and I liked her take-and-bake cookies best on a convection setting in my home oven.)
Good ingredients count. She relies on Shephard's Grain flour, chocolate from Callebaut/Cacao Barry or Theo Chocolate (depending on the cookie), and so on.
Don't melt your butter.

 

A chocolate chip cookie needs some heft and a generous load of chips

—

it shouldn't just be a sad flat disc with the same few chips visible from the top and bottom.
Wehl-Martin freezes her dough before baking it. Yes, for all cookies in the stores and at her home, not just the dough that's meant for take-and-bake packs. She thinks it makes the cookies taste better (there's some science behind chilling dough for at least a few days), and "you truly can be spontaneous if someone rings your doorbell, yes, you have cookies in the freezer! I always have cookie dough in my freezer. Always."
Hello Robin cookie dough is currently available at all PCC stores except Central District, Downtown, Green Lake (Aurora) and View Ridge (and can be special ordered at those). If you want to make some from scratch, here's her recipe for sugar cookies, taught to Wehl-Martin by Leora Bloom, that are good any time but especially fun to decorate for the holidays.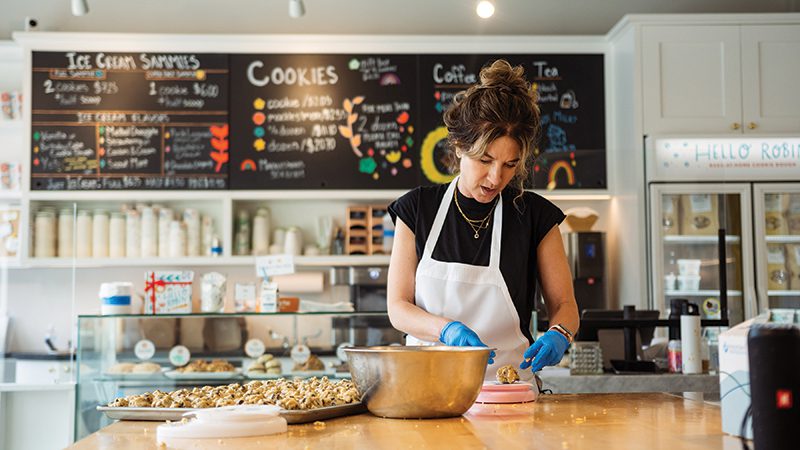 Kids bake with Robin
Join Robin Wehl-Martin for PCC kids cooking classes on Holiday Cookies.
Sign up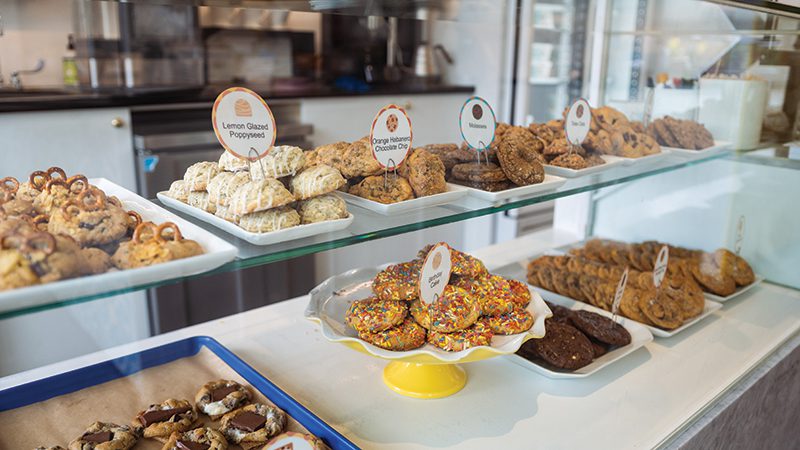 Robin's Sugar Cookies
Makes about 4 dozen
12 ounces salted butter
1 ⅓ cups sugar
4 egg yolks
4 cups flour
In the bowl of a stand mixer, cream the butter and sugar.
Add egg yolks one at a time, mixing well after each.
Add flour 1 cup at a time. Mix until dough forms a ball, cleaning the bottom of the bowl. Don't overmix. (Editor's note: That said, it takes a while for the dough to come together. It *will* happen in time, Robin says. It doesn't need more liquid. Don't give up on it!)
Roll dough to a thickness of ¼-inch and cut in desired shapes. Put cookies on parchment-lined baking sheet. To keep the shapes, chill for at least 30 minutes, or wrap and freeze for up to two days.
When ready to bake, preheat the oven to 350 degrees. Brush each cookie with cream, and top with sprinkles or sugar crystals.
Bake on center rack for 10 minutes or until edges just begin to brown.