Cooking with cast-iron skillets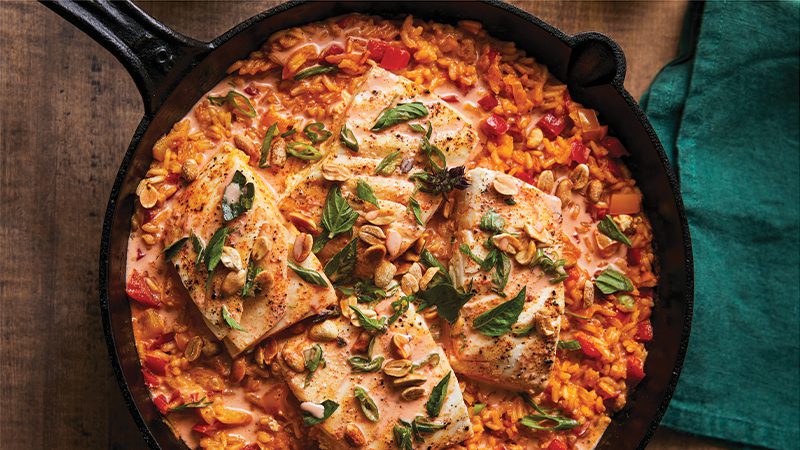 Cast-iron skillets are amazingly useful, surprisingly simple… and frequently misunderstood. Jackie Freeman, a longtime PCC recipe developer and cooking class teacher, is helping home cooks season their skillets and sharpen their skills with her new cookbook, "Cast Iron Skillet One-Pan Meals: 75 Family-Friendly Recipes for Everyday Dinners" (Sasquatch Books, $22.95).
Freeman's recipes and recommendations apply to her own kitchen as well. While she cooks for a living, "when I'm cooking for my family (ranging in ages from 4 to 47), my goal is get in and out of the kitchen as quickly as possible, with the minimum amount of work, and hopefully make something that everyone will enjoy (at least a little bit)," she said.
Her background includes cheesemaking, food styling, catering, working as a private chef and writing three cookbooks. She talked with Sound Consumer editor Rebekah Denn about the joys of cast-iron pans (they do take a little work, but so do most things that are worthwhile), the do's and don'ts of the skillets (don't ever put them in the dishwasher!), and shared a favorite recipe.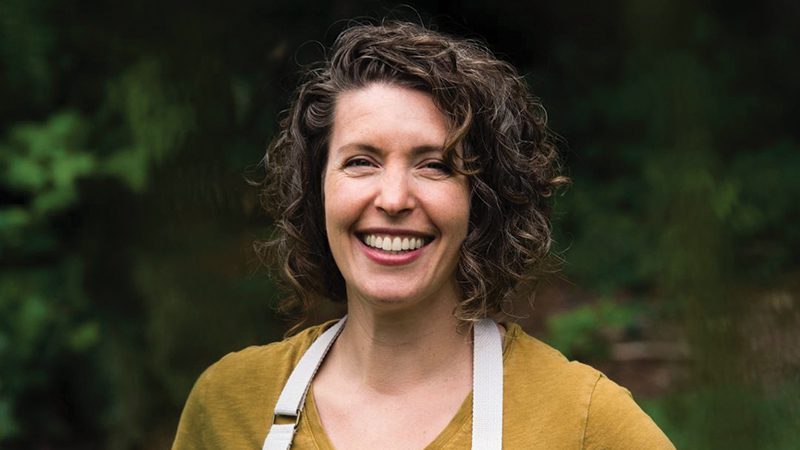 Q: How did you start cooking with cast-iron yourself?
A: "I actually don't remember when I started using cast-iron pans, they were just always around our house. We inherited my grandmother's pans (which were poorly abused and we continued to abuse them for years). We would cook with them, wash them with soap, never dry them, and honestly…they still worked fine! I do remember when I started to appreciate cast iron and use it correctly, however. When I began my career in the restaurant world, I finally learned how to actually take care of cast iron. I was amazed at how efficient and easy it is to cook with and clean up afterwards. Our mistreated old cast iron still worked great, but once you learn how to really use it correctly, it's even better!"
Q: Why should people cook with it…and when?
A: "I almost exclusively cook with my cast iron skillets (when a skillet is called for in a recipe). It is a great natural, healthy, nonstick pan option that does just about anything you need. I don't recommend it for simmering sauces and soups for long periods of times but it's great for searing protein, making a stir-fry, cooking an egg, deep or shallow frying, even cooking grains in a pinch!"
Q: Cast iron has a reputation for being tricky to use and/or clean. Deserved?
A: "Like most bad reputations, it usually comes down to lies, rumors and misunderstandings. It's funny, because cast-iron cookery has been around longer than almost any other form of cookware (nonstick/Teflon/stainless steel are recent developments) and has been used successfully for generations (and passed down for generations). Cast iron is surprisingly easy to use and very forgiving. Once you have a nicely seasoned skillet it takes little more than a quick rinse with warm water to clean, maybe a gentle scrub, and a quick reheat on the stovetop to dry. It is a heavy pan, so you may not be flipping pancakes or eggs into the air, but that's why we have spatulas. It does retain heat for a long time (which is just one of the reasons it's such a great cooking material), so always make sure to have a potholder on hand to move the pan around, even when you're done cooking."
Q: Do you recommend any particular brand or pan?
A: "Nope! All cast iron is good cast iron. I have a whole range of skillets in my kitchen: a 60-plus year-old skillet from my grandmother; a newer cheap, online purchase; and a super-pretty, locally forged, silly-expensive fancy-schmancy skillet I got as a birthday present. They all work exactly the same."
Q: What do you wish more people knew about cast-iron cooking?
A: "The pans are cheap and easy to purchase (sometimes free if they are passed down from family/friends), easy to cook with, easy to clean, last forever (literally), and can do just about everything you need in the kitchen. They are the perfect cooking companion."
Q: Why focus on one-pan recipes?
A: "Don't get me wrong, I love cooking for my family, but most of the time I would rather be efficient and make something as quickly and easily as possible than spend hours prepping, cooking, using lots of pots and pans, AND THEN still have to clean the whole mess up! The idea behind one pan cast-iron cooking was to get the whole dinner kit-and-kaboodle cooked in one single skillet, so that dinner (including the main component and side) is cooked at once and has minimal cleanup afterwards. Cook quickly, clean quickly, and get to eating before the kids (and myself) have a hangry meltdown."
Q: Anything it is NOT good for?
A: "Because cast iron is made of, well…iron, it can leach a little bit of color and flavor into food if it is left too long to simmer or store. (Note: ironically, this is a bit of a health benefit for those who need a little iron in their diet!) Simmer soups and sauces in your enamel-coated cast iron (or stainless-steel pots) and store your food in proper containers but use your cast iron for just about everything else. "
Q: Favorite recipes from the book?
A: "Ooh, that's like picking a favorite child. Yes, we may have one, but we will never actually tell you which one it is 🙂 However, some of my favorites from across the chapters include: Cauliflower and Eggplant Masala, Pasta e Ceci, Pan-Seared Salmon with Braised Lentil Salad, Thai Red Curry Rice with Halibut, Chicken Tagine with Spiced Fennel Quinoa, Dijon-Roasted Chicken with Italian Sausage and Brussels Sprouts, Meatballs with Caramelized Onions and Pine Nut Lemon-Rice, Spiced Beef and Chickpea-Stuffed Pitas 'Kawarma,' Pork Ramen with Bamboo and Mushrooms, Sesame Pork Cutlets with Warm Mustard Greens. OMG, I'm hungry now."
Thai Red Curry Rice with Halibut
The flavors and colors of this dish are bright and bold: red curry paste, bell peppers, and fresh herbs. But it is somehow simultaneously super comforting and warming, thanks to all of that coconut milk and rice. Play around with how much red curry paste you add: If you like it mild, start with a tablespoon. If you like to spice things up, add a touch more. I always opt to spend a bit more money on fresh halibut, but if you're just looking for a cheap weeknight dinner, it's perfectly acceptable to buy frozen cod.
Makes 4 Servings
1 (14-ounce) can unsweetened coconut milk
1 to 2 tablespoons red curry paste
4 (6-ounce) skinless halibut fillets, about 1 inch thick
Kosher salt and freshly ground black pepper
1 tablespoon sesame oil
2 medium red or yellow bell peppers, finely diced
4 green onions, white and green parts separated and thinly sliced
2 teaspoons minced peeled fresh ginger
2 medium cloves garlic, minced
1 cup long-grain white rice, such as jasmine or basmati
1¼ cups chicken or vegetable broth
½ cup unsalted roasted peanuts
2 tablespoons chopped fresh Thai or regular basil leaves
Lime wedges, for serving
In a small bowl, whisk together the coconut milk and red curry paste until smooth; set aside.
Pat the halibut dry with paper towels and season with salt and pepper; set aside.
Heat the oil over medium heat in a 10-inch skillet. Add the peppers and green onion whites and cook, stirring often, until the peppers soften, about 5 minutes. Stir in the ginger and garlic and cook until fragrant, about 1 minute more. Add the rice and cook until the edges start to turn translucent, about 1 minute. Stir in 1 cup of the curry sauce, all of the broth, and a generous pinch of salt. Bring to a boil.
Carefully place the halibut, skin side down, on top of the rice mixture. Drizzle with a little bit of the curry sauce. Reduce the heat to a simmer and cook, covered, until the liquid is absorbed by the rice and the halibut easily flakes apart when gently pressed with your finger, 12 to 15 minutes.
Remove the skillet from the heat. Sprinkle the rice with the remaining green onions, the peanuts and basil. Drizzle with the remaining curry sauce to taste over the fish and rice and serve with the lime wedges for squeezing.
From "Cast Iron Skillet One-Pan Meals: 75 Family-Friendly Recipes for Everyday Dinners" by Jackie Freeman (Sasquatch Books).