Soda tax funds support food equity programs
This article was originally published in November 2022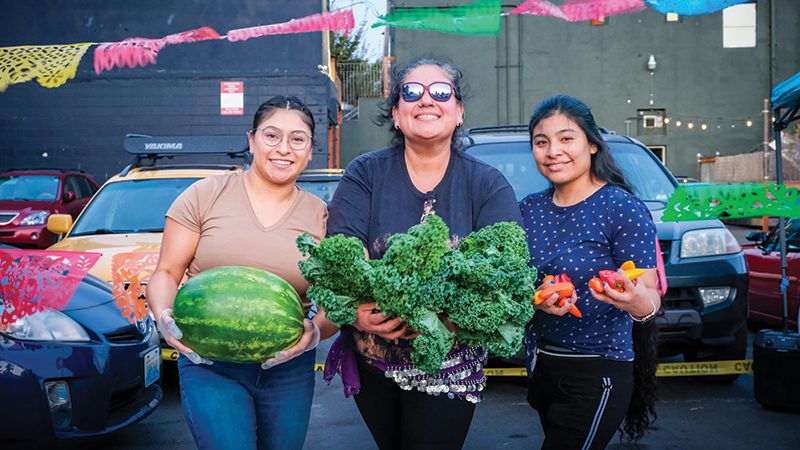 A tax on sweetened beverages will help 22 local programs provide nutritious, affordable and culturally relevant food to their communities.
The "soda tax" on distributors passed by the Seattle City Council in 2017 was intended to reduce consumption of soda and other sugary drinks, while improving public health. The tax of 1.75 cents per ounce was controversial for several reasons, including concerns it would disproportionately affect lower-income residents.
In a recent study, though, University of Washington researchers examining such taxes in Seattle, Philadelphia and San Francisco concluded that worry did not become a reality. "Most of the revenues were raised from higher-income households, and most of the revenues were invested in programs that benefited lower-income households," James Krieger, an author of the study, told Axios.com. (It's still a complex issue, and the study warned that such taxes could still overall "place a greater economic burden on people with lower incomes." Click here to read the full report.) Additionally, a 2021 study in the Journal of the American Medical Association found that the tax reduced consumption of sugary drinks, reporting a 23% drop in grams of sugar sold from taxed beverages.
The funds have benefited various programs, from supporting children with developmental delays to expanding the Fresh Bucks program subsidizing fruits and vegetables for lower-income residents. Most recently, according to the city's Department of Neighborhoods, $2.8 million was distributed to community groups. The money came from the Food Equity Food established on the recommendation of the city's Sweetened Beverage Tax Advisory Board "to increase investments in community work led by those most impacted by food and health inequities." According to the Department of Neighborhoods, recipients are:
$150,000 to Food for All Youth Leadership Program for a community-based, youth-led food distribution and education project focused on engaging and developing leadership among BIPOC youth ages 14-17. The five participants will source and distribute approximately 15,000 pounds of culturally relevant produce from Black and Brown farmers and ethnic grocers to BIPOC communities in eight neighborhoods throughout Seattle.
$150,000 to Cultivate South Park for Urban Fresh Food Collective to produce locally grown vegetables with inter-generational groups of South Park residents at Marra Farm (see Marra Farm article here). The project will deliver 250 culturally relevant grocery boxes to families bi-weekly, host a weekly pantry program, host monthly health and nutrition wellness workshops at their idea lab and commissary kitchen, and offer free access to their commercial kitchen to neighborhood programs and local entrepreneurs.
$150,000 to African Community Housing & Development for Delridge Farmers Market to grow and expand the market for two years to increase food security for the neighborhood and build prosperity for Black, Indigenous, and People of Color food producers. (The market also received a 2022 PCC Food Access Grant, click here to read more.)
$150,000 to Black Star Farmers for The Black Star Farmers Mutual Aid Food Distribution Network to funnel organically grown produce to underserved communities in Central and South Seattle by collaborating with existing mutual aid organizations.
$150,000 to Chief Seattle Club for ?ál?al Café to create a space for community to gather and connect with Native food and events. The social enterprise café and community center will serve food from Sovereignty farm and feature Native storytellers, traditional songs, rotating Native artist exhibits, and an Indigenous Farmer's Market.
$150,000 to East African Community Services for Project F.E.E.D: The East African Community Food Equity & Education Drive to improve the long-term food security and health outcomes of East African refugee and immigrant communities in South Seattle. The project will provide monthly food bags with cultural staples and nutrition classes to 150 low-income East African refugee and immigrant families.
$150,000 to Community Roots Housing for the Lowell Elementary Community Hub Food Pantry to distribute healthy and culturally relevant foods and offer food delivery services to low-income and food insecure community members. The pantry will be accessible to Lowell Elementary families, alumni, and Central District families after school hours, during holiday breaks, and throughout the 2022-2023 school year. (The food pantry also received a 2022 PCC Food Access Grant, click here to read more.)
$150,000 to Family Works for Culturally Responsive Appropriate Food Procurement for All to make food bank programs more responsive to the cultural needs of families and support underserved neighborhoods that have been disproportionately impacted by food inequity.
$150,000 to Friends of FEED for FEED Our Native People in Seattle to increase access to culturally relevant foods through partnerships with Native-led hunger relief organizations and initiatives. The project will develop a resource guide for consumers with information on local Native American food producers and culturally relevant dietary guidelines and will host an event where foods purchased from those producers will be distributed to Native Americans living in Seattle.
$149,850 to Wa Na Wari for Love Offering: Community Meal Program to promote economic stability for BIPOC caterers, increase access to nourishing meals, and cultivate a sense of belonging around cultural dishes. The program will provide free-of-cost African diasporic food and Native American-inspired soul food made by Black/Indigenous chefs three times a week.
$144,000 to Beacon Food Forest for the BIPOC Community Garden to expand opportunities for Black, Indigenous, and People of Color to exercise food sovereignty and grow culturally relevant foods at the Beacon Food Forest. The funding will support a Community Outreach Coordinator's salary and the hiring of a Site Coordinator to help lead onsite activities and expand delivery to local food banks. It will also support expanding the garden area, purchasing garden supplies, and increasing outreach efforts to the BIPOC community in Beacon Hill.
$139,800 to A Legacy of Equality, Leadership, and Organizing (LELO) for Building the Beloved Community Through Food Equity to bring East African, Pacific Islander, Asian American, Latinx, and African American communities together to develop relationships on food equity issues. The project will partner with organizations serving Seattle's low-income communities of color to provide free Community Supported Agriculture organic vegetable and fruit boxes and conduct cooking classes and education events.
$119,185 to Khmer Community of Seattle/King County for Khmer Garden to Plate Extension to expand their current intergenerational community gardening program by adding educational workshops about sustainable urban food systems, Khmer culinary arts classes, and the distribution of produce and meals to low-income Khmer elders living in West and Southwest Seattle.
$116,400 to Villa Comunitaria for Salsa De La Vida to increase food production and provide food and nutrition education in South Park. Salsa De La Vida is a farm and food production project started and operated by Latinx women to increase access to land and grow high-quality and organically grown produce for the South Park community.
$109,298 to White Center Food Bank to increase access to fresh produce and culturally familiar foods for roughly 80,000 annual customer visits.
$109,194 to Lifelong Aids Alliance for Culturally Relevant Meals and Groceries to increase access to culturally appropriate, medically tailored meals and groceries that support the long-term health of people living with food insecurity, chronic health conditions, and acute health diagnoses.
$105,700 to Byrd Barr Place for Farm to Table to build relationships with local farmers to increase the quantity and diversity of food available to their clients. (For more on Byrd Barr Place, a PCC partner, click here to read more.)
$100,000 to Asian Counseling and Referral Service (ACRS) for Seattle Community Farm to hire a contracted Farm Coordinator to help with managing the farm through 2023. The Farm Coordinator will support volunteer activities and provide community-grown produce to low-income, immigrant and refugee communities in Seattle by bringing culturally familiar produce to thousands who visit the ACRS Food Bank.
$99,500 to Tongan Community Food Pantry to provide cultural food that meets nutritional requirements for sustaining good health for people in the Tongan Community.
$96,599 to Empowering Youth and Families Outreach for Children's Garden and Outdoor Classroom to increase opportunities to learn about, grow, and eat healthy and culturally relevant food for low-income, South Seattle residents, especially BIPOC youth and their families. Food grown at the garden will serve local families through bi-monthly food distributions and community cooking classes and benefit residents of The Flourish on Rainier.
$85,474 to Rainier Valley Steering Committee for Seedlings to Consumption to produce virtual and in-person workshops for youth ages 13-21 to learn about food production and create their own indoor/outdoor garden.
$75,000 to United Indians of All Tribes Foundation for The Way of the Buffalo to intertwine food sovereignty with cultural teachings and cooking classes. The program will acquire a buffalo from Yakama Nation to feed community members to prepare and eat together in a feast at Daybreak Star Indian Cultural Center. The preparation will follow Native techniques for ceremonial acceptance and butchering practices for community dispersal. The program will also provide daily offerings through the Daybreak School Preschool meals, monthly food distribution, seasonal holiday baskets, and events held in collaboration with their Traditional Medicine Program.