Tips for baking the best "Everyday Cake"
By Rebekah Denn
This article was originally published in September 2022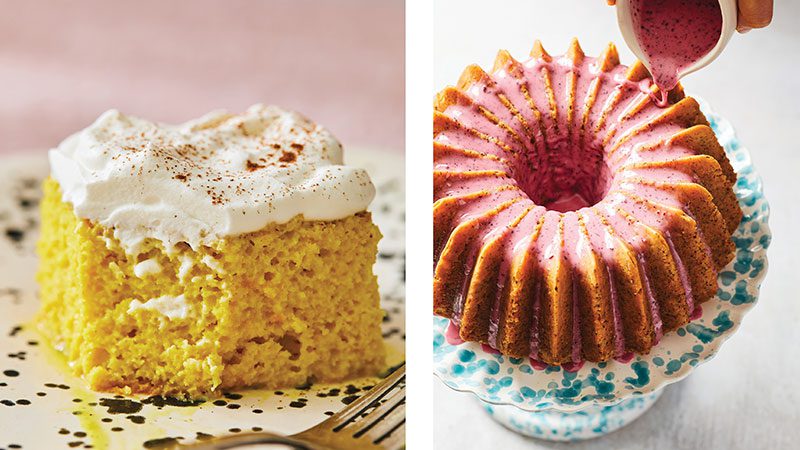 When Polina Chesnakova thinks about bundt cakes, they're associated with coffees and brunches and old-fashioned gatherings like her mother's church fellowship group. They're less intimidating than layer cakes and "great for feeding a crowd."
Loaf cakes are for casual, keep-it-simple options like a friend stopping by for tea. Square? Ideal for after-school snacking or packing up for a picnic. Sheet cakes are great for parties.
All are delightful in Chesnakova's new book, "Everyday Cake" (Sasquatch Books, $22.95), an ode to cakes for every mood and taste that's organized by pan shape and informed by years of experience (See the link below for her upcoming PCC cooking class).
A professional baker, cooking teacher, and the culinary director of Seattle's Book Larder cookbook store, Chesnakova spent the first part of the COVID-19 pandemic developing and testing cake recipes. 
She wanted cakes that were straightforward and simple but also enticing and fun, "a little bit more elevated, more exciting" than just one-bowl dumps (though there are some of those too). 
"I wanted to make sure there were a lot of classics and a lot of cakes that people were familiar with. But I feel like my style of baking is that I like to add a little something extra, or a little twist."
That means playing with textures, types and ways of infusing tastes, whether a lemon loaf gently perfumed with lavender, a touch of rye flour in the Turkish coffee cake, or a tropical coconut-rum sauce covering her English sticky toffee loaf.
Baking was Chesnakova's first passion when she became interested in cooking as a high school student in Rhode Island. Her early jobs were at bakeries, and she devoured writers like Dorie Greenspan: "I would take out cookbooks from the library and just read them back-to-back." She worked with breads, wedding cakes and pastries, rustic pies and cakes, but a car crash in 2016 badly injured one hand and rerouted her career. 
Through a long recovery she interned for Culture (a magazine about cheese), moved to Seattle with her now-husband, wrote her first book, "Hot Cheese," then focused on cake.  She also frequently writes about and teaches cooking classes centered on her own Russian-Georgian heritage, with an occasional nod in the cake book, like an Apple Sharlotka tea cake and a Russian Napoleon of puff pastry and custard cream. 
Some recipes took significant work to develop, like the golden milk Tres Leches cake based on memories from a high school favorite. "I was trying to develop the right sort of sponge cake that would soak up all the milk but still hold its own so that it wasn't soggy, and wouldn't collapse under the weight of the milk. I tested that cake over 30 times…Tres leches has so much flavor and it's a beautiful cake. And then anytime I serve it to anyone, they are like 'Oh my goodness, I am obsessed with this cake.'"
With months of nonstop cake-baking behind her, and perspective on both professional and home kitchens, we asked Chesnakova for cake advice for home cooks. She suggests: 
Sufficiently preheat your oven—get it to the recommended temperature at least a half-hour early.

 

Get a scale (top-rated kitchen versions run around $25). "I think that's the number one thing you can do to really up your game and make sure you have consistent results. The way I measure up a cup of flour is different from the way you might measure flour, and multiplying that by every ingredient can add up to set you up for success or failure."

Properly cream butter and sugar. "That is the basis of so many cakes, getting that light, airy texture." Many people stop creaming before it becomes fluffy.
Scrape the bowl frequently—sides, bottom and even

 

beaters—so the batter is thoroughly aerated and mixed.

 

Make sure all ingredients are at room temperature to help them properly emulsify.

Recognize room temperature butter, which should give way when you press down a finger, but not too much. "You don't want your finger to go right through the butter, (but) if you press on it and can't really make an indent it's too cold."

 

While visual cues like "It has a nice golden-brown color" are important for knowing when a cake is done, thermometers can provide an extra layer of assurance. Expect most cakes to be done baking around 200 to 210 degrees.

 
Golden-Milk Tres Leches Cake
This Latin American dessert consists of a sponge cake soaked through with tres leches (Spanish for "three milks") and then topped with whipped cream. For a twist, the tres leches here begins as golden milk—a traditional Indian drink that has its roots in Ayurveda. Infused with turmeric, ginger, cinnamon and other spices, this electric-yellow tres leches marries two vibrant cuisines into one irresistible cake. Don't skimp on the whipped cream—it helps cut the sweetness and makes each bite extra creamy. 
Makes 12 to 16 servings
6 eggs, at room temperature (see note)
1 cup (200 g) granulated sugar
1 tsp vanilla extract
1⅓ cups (175 g) all-purpose flour
3 tbsp cornstarch
1½ tsp baking powder
¾ tsp kosher salt
3 tbsp neutral oil, such as canola or safflower 
For the tres leches
1 (13.5-ounce) can light coconut milk
1½ cups (355 ml) whole milk
2 tsp vanilla bean paste or extract
1½ tsp ground turmeric
1¼ tsp ground ginger
½ tsp lightly packed freshly grated nutmeg
½ tsp kosher salt
4 to 5 whole black peppercorns
3 cardamom pods, crushed, or ½ tsp ground cardamom
1 cinnamon stick, or ½ tsp ground cinnamon
1 (14-ounce) can sweetened condensed milk 
For the whipped cream
2 cups (475 ml) cold heavy cream
2 tbsp honey or granulated sugar
Ground cinnamon, for dusting 
Preheat the oven to 350 degrees F. 
Line the bottom of a 9-by-13-inch glass or ceramic baking dish with parchment paper. 
In the bowl of a stand mixer fitted with the whisk attachment, beat the eggs and sugar on medium-high speed until thick ribbons form, about 10 minutes. Add the vanilla and mix to combine. 
Meanwhile, in a medium bowl, sift together the flour, cornstarch, baking powder, and salt. Use a silicone spatula to gently but confidently fold one-third of the flour mixture into the egg mixture by hand. Repeat with the rest of the flour mixture in two batches—be careful not to overmix! Drizzle in the oil and fold to thoroughly combine. Gently scrape the batter into the prepared dish and gently smooth out the top. Bake the cake until it springs back when pressed and a tester inserted into the center comes out clean, 30 to 35 minutes. Transfer the pan to a wire rack and allow the cake to cool completely.
Meanwhile, make the tres leches. In a medium saucepan, whisk together all the ingredients except for the sweetened condensed milk. Bring to a simmer over medium-high heat. Reduce the heat and gently simmer for 3 minutes. Remove from the heat, cover, and let steep for 1 hour, or until the cake has cooled. Remove the cinnamon stick and whisk in the sweetened condensed milk. At this point, I like to transfer the tres leches to a large liquid measuring cup or small pitcher for easy pouring. Once the cake is cool, run a knife around the edges of the pan and invert it onto a cutting board. Remove the parchment from the cake and flip it over again. Use a serrated knife to cut off the cake's browned top—you may be able to simply peel it off. This extra step ensures that the cake will be evenly soaked through. 
Nestle the cake (cut side up) back into the baking dish. Gradually pour the tres leches evenly over the top. Remove any cardamom shells or peppercorns that have fallen onto the cake. Allow to sit at room temperature for 30 minutes, then cover and refrigerate for at least 6 hours and ideally overnight. Up to a few hours before serving, make the whipped cream. In the bowl of a stand mixer fitted with the whisk attachment, whip the heavy cream and honey on medium-high speed until it holds stiff peaks. Spread it evenly over the top of the cake and lightly dust with cinnamon. Serve immediately or refrigerate until ready to serve. This cake keeps well in the refrigerator for up to 4 days.
NOTE: For best results, use exactly 300 g whole eggs. Weigh your eggs in the mixing bowl, whisk them together, and then pour out any excess if needed.
©2022 by Polina Chesnakova. Excerpted from "Everyday Cake" by permission of Sasquatch Books.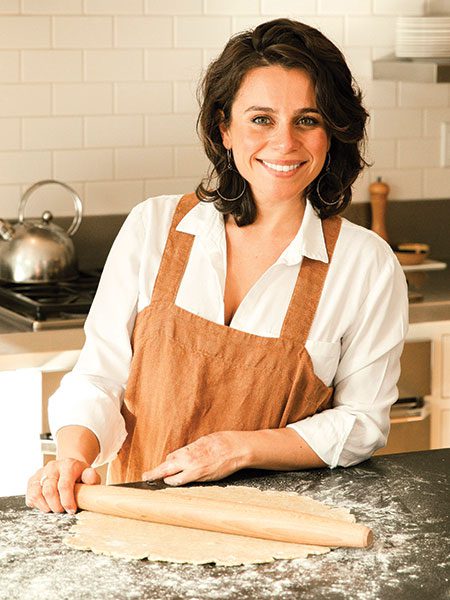 Let's bake cakes
Polina Chesnakova will teach PCC Cooking classes on baking everyday cakes in October. The hands-on class will include recipes for Napoleon Cake, layers of puff pastry with whipped pastry cream, and for Apple Sharlotka, a fluffy Eastern European sponge cake studded with apples.
Sign Up