Q&A with "standards-bearer" Terry DeBlasio
This article was originally published in November 2020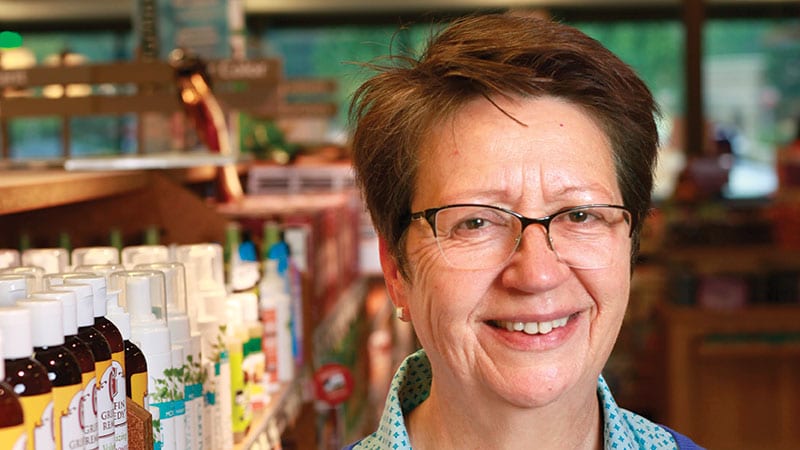 In her years at PCC Community Markets, Terry DeBlasio influenced the nation when it comes to supporting small, local businesses producing high-quality soaps, shampoos, skin creams, and other health and body care products.
The New Hope Network, which has honored DeBlasio at its Retailer of the Year awards, called her "a walking encyclopedia of natural health and beauty information and insights"—a passionate advocate, mentor to small businesses, and a standards-bearer for the industry.
Her five-year tenure as Health and Body Care Merchandiser at PCC included making the department's products more consistent at each store, overseeing renovations, adding hundreds of products, expanding bulk supplies, supporting local and environmentally conscious businesses, and eliminating products that weren't in compliance with PCC's list of some 400 restricted or banned substances.
DeBlasio retired from PCC earlier this year and is moving to southwest France with her wife, a native of France. The couple has been together for 44 years.
"We're taking two suitcases apiece and a small dog, and that's it," she told Sound Consumer editor Rebekah Denn.
Are any of her favorite health and body care products going with her?
"Oh, yeah. That's one suitcase of my two."
Q: Did you grow up in Seattle?
A: I grew up in Yakima. I was lucky, my house was in town but we had 2 acres. It was planted in the 1920s, I think, by someone who did an edible landscape. We had the most interesting yard, things like black walnuts, pecans, black raspberries, asparagus, mint, peaches, apricots, Italian prunes, three or four different kinds of cherries, wild strawberries. It wasn't a lot of everything but it was so much fun. We knew what good food tasted like, we knew what a ripe peach tasted like. It really influenced my choices getting into the food business, and that same passion for the quality of ingredients drove me into doing natural skin care.
Q: You started your career in the restaurant industry?
A: I went to college at Evergreen. You really have to be self-directed to go to Evergreen. I was 18, 19, and I was not. I wanted to work in restaurants and that wasn't very easy in the mid-'70s. There weren't many women in kitchens. I got a job as a dishwasher and worked my way up from there. I got a job at Ray's Boathouse and worked my way up to assistant kitchen manager then went to work for a local legend, Bruce Naftaly (then at the Alexis Hotel). He said, "we're aiming to open Le Gourmand restaurant in about a year, we'll work together for a year and you'll take over our spot." So that's what I did. After (the Alexis restaurant closed) I got out of the business. I had a friend who said, "let's move to California and buy a farm and grow herbs and make them into something." I said, sure!
It was natural skin care. We didn't know how to make products, we didn't know how to market, we didn't know what our market was, we didn't know costs. We didn't know anything. We learned. It was kind of like my MBA. I learned so much, because we did everything.
Q: Is that a natural evolution, from cooking to making health and beauty products?
A: It's all chemistry. Making a skin care product, a cream, you're making an emulsion in the same way you would make a hollandaise.
Q: What influenced your commitment to local and organic products?
A: It started with having the opportunity to wander around my yard and understand the cycles of the seasons.
Q: What innovations are you seeing now in the health and body care industry?
A: The innovations usually come from the small brands. For me the emphasis on local and organic has been so important. Also, COVID has made me rethink our supply chain and how I want to do business. We've had these heritage brands that are large, and we get them from UNFI (a national distributor), they're national brands, but boy we had a hard time with COVID getting those. We were able to survive because we had a great relationship with Moon Valley, with Shepherd's Moon, with all these local vendors that were able to supply us.
Q: How do you source products that are effective and also meet PCC's standards?
A: There are a lot more noes than there are yeses.
Q: What are some of the challenges?
A: With some of the cosmetics, it's a little trickier to get a product that is really effective, that wears well, and has the intensity of color that many people want, and yet is clean.
The other thing that's a real problem in the industry is transparency. Transparency around fragrance is one of the huge problems. A lot of times you'll find preservatives buried in there, hidden under the "fragrance" umbrella.
Q: Tell me about some of the small companies you've worked with.
A: There are so many that were here before me that I just love working with and I've worked to expand their business. The first that comes to mind is Moon Valley (which now produces PCC's private label soaps). It's 80% organic ingredients, a compostable label, it's a value (affordable) product and it's ours. They've been a great partner. We've had a couple visits up to their farm, which has been super helpful. Our staff will go. They'll talk to us about how they make their products and what goes into them. We actually see the calendula in the field, we see the different herbs drying in the barn and see their equipment running. Another great company is Uncle Harry's. They have intention about every aspect of their business; besides being an organic farm and organic producers they're also WWOOfers (wwoof.net). When I go to ask them about a preservative or packaging they're already thinking about it. Shepherd's Moon is another company that's always thinking about the things we're thinking about, she's been on the reusable recyclable bandwagon since I've been here.
One thing we've done (with the companies) is the expanded bulk program, and we're trying to do closed loop bulk programs in HBC where we send the packaging back for reuse (see Sound Consumer "Behind the Bulk: PCC Adds 'Closed Loop' Body Care Products and More").
Q: Is that still the direction for the future?
A: Absolutely. When we last went to (industry trade show) Expo West our message was compostable packaging and recyclable packaging and moving away from plastic. I think PCC is headed in the direction of saying "On X date there will be no more plastic bottles on our shelves." When we went to the Expo we said "start thinking about it, because that day will come, so be ready." They need to hear from us that this is the expectation. Then we need to follow through and say OK, as painful as it is, we're going to cut the connection with this big brand because they're not able to comply. It's risky. That's why I love PCC, because our customers expect that. But it's going to be work, it's not going to be easy and it's not going to be immediate.
Q: How do you hold companies to account for upholding standards?
A: You have to have a relationship with that vendor. There's not enough enforcement through the Food and Drug Administration and Federal Trade Commision—most companies can get away with putting anything on a label. You have to trust that company. I do a lot of thinking and vetting and asking them, "What is this product" and knowing what's an acceptable ingredient. One other thing is that ingredient decks change. A lot of times if a company is looking to be purchased or has been recently purchased, they may reformulate to less expensive ingredients and that isn't always communicated to us.
Q: Are there regulations you'd like to see passed in the industry?
A: If you look at the European Union, they have far far stricter ingredient standards than the U.S. The U.S. will let you put just about anything on your body, and that's an issue. Then there's the whole way that supplements are regulated. It's good that people aren't making crazy claims—like that pickle juice will cure cancer—but at the same time I'd like to be able to have a clear path between the research that is being done and a connection to the customer so they understand how this ingredient may work in their situation for their condition. (Limits) are not necessarily a bad thing, but there are some really common-sense things that we can't say.
Q: Are there other things you're proud of achieving here, or goals that you wished you'd achieved?
A: I'm very proud of the work that we have all done with Ventures (see related story) in providing mentoring to small, low-income startups, the majority of whom are BIPOC and women.
Q: What else should people know?
A: I've never worked anywhere else where I was really encouraged and expected to have the role that I have, as a gatekeeper and as an educator. Mostly when you work in this industry it's all about the bottom line and making sure the shelves are full and they look good. This is more about, how can we influence the industry. How can we educate our customers to make good decisions. And how can we make sure that what we offer is safe and effective.
---
Introducing Steven Jamieson
Steven Jamieson is PCC's new Health and Body Care Merchandiser. Jamieson has been PCC's Associate HBC Merchandiser for the past two years, after originally joining PCC as a deli helper clerk at the Issaquah store. He is a graduate of Bastyr University, with a degree in Nutrition and Culinary Arts.