Holiday tamales are "a reason to bring people together"
by Rebekah Denn
This article was originally published in November 2020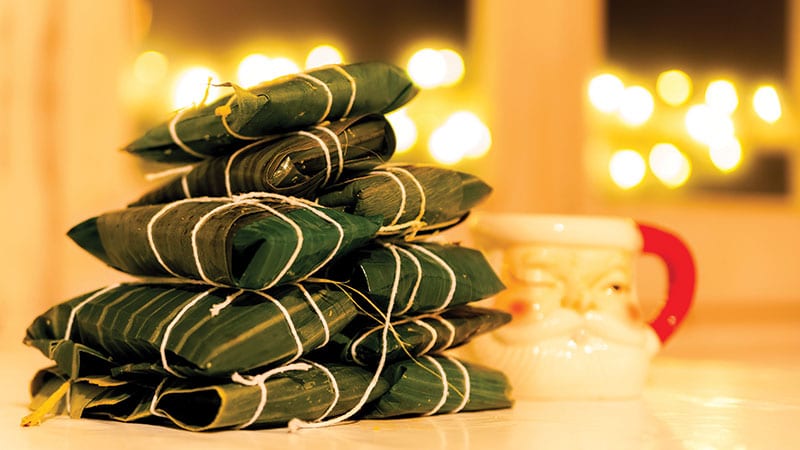 Tamales are a treat any time of year, but they're extra special around the holidays.
"The thing about tamales is, they're very time-consuming to make. They're a reason to bring people together," said PCC cooking class instructor Sarah Canul, who teaches a class on holiday tamales. When it's time for a tamalada, a traditional tamale-making party, "Everyone comes, everyone makes them and then everyone takes them home. Everyone leaves happy and everyone has fun doing it."
That's true regardless of the wrappings, the fillings, or the specific tamale-making techniques Canul has learned in her own life and cooking career.
A Seattle native with an interest in cultural anthropology, Canul essentially designed her own field study program after graduating high school, living with her father's family in the Yucatán area of Mexico, learning to cook from her grandmother, immersing herself in the area's culture and language.
"There they speak Mayan also, so there are some Mayan words thrown in here and there. It's a different type of Spanish than if I were going to a different part of Mexico, it's got very different roots."
She took up boxing, lost a significant amount of weight, and found "the combination of learning to cook, exercising, eating healthful foods, changed my perspective on the interconnectedness of all that."
When she returned to Seattle, she went through Bastyr University's program for culinary arts and nutrition. After graduation she took on a pivotal solo journey from Ecuador to Mexico, including stops in Columbia, Nicaragua, Guatemala and more. "I just ate my way through the countries and learned." That education included volunteer "stages" working at restaurants, including Pujol, Enrique Olvera's lauded fine dining restaurant in Mexico City. Once home in Seattle, she joined the staff at Fonda La Catrina in Georgetown, learning all the restaurant stations from tortilla-making to the grill. She also worked at its sister seafood restaurant, El Sireneto, before moving on to private chef work after her son was born.
"I think I realized when I was living in Mexico and learning all these things, how much there is to learn…I really liked that, that it would always be a constant thing I could work on and get better at and learn about…It's very humbling, also," she said.
Canul first began working as an assistant with PCC classes as a Bastyr student, then taught on her own—including teaching virtual classes during the COVID-19 pandemic.
While virtual teaching has required adjustments, it also has its benefits—including seeing people in their own kitchens making the recipes. "I vividly remember from my first class, seeing a mom and her daughter in their aprons, making the tortillas and the chilaquiles I was teaching. I thought that was really cool to be connected in that way, not only teaching the next generation of cooks and being able to see that, (but) being so far away but still feeling really connected to someone."
While she appreciates the beauty and thoughtful nature of the dishes she has seen in fine dining restaurants, ultimately those home kitchens hold more appeal for her.
"I'd rather have somebody's grandma cook for me than one of the prestigious chefs…
"I like connecting with people and learning from them and what their grandma taught them."
She's developed traditions of her own as she's grown into her craft, like the tamalada of sorts she held last year with a restaurant colleague from El Sirenito. He rode a bike with a tamale pot in a carrier in the back, and they handed out tamales to people on the streets of White Center. She made well over 500 tamales that December, but it was worth the time for the traditions she wants to incorporate into her own life: Tamales as a way to bring people together, "a token of love and hard work and community."
---
Sign up for Sarah Canul's holiday tamale classes.
Interested in other holiday cooking classes? PCC's fall schedule includes: