Vendors are the heart of Real Change
By Kamna Shastri, guest contributor
This article was originally published in November 2020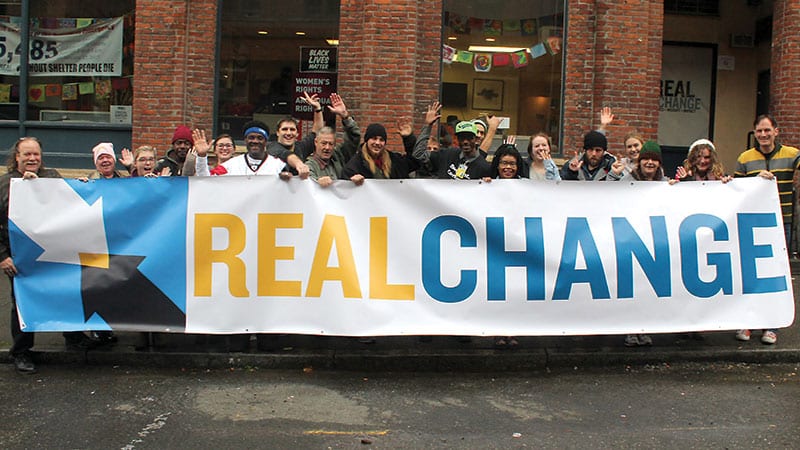 ---
Throughout the years, whether or not I bought a paper from vendors selling Real Change at their regular posts, I would always make a point to smile and exchange a quick "have a good day!" The warmth and lingering feeling of being connected to a place, seeing the same familiar faces week after week, would stay with me the whole way home.
Even such small interactions cultivate a sense of belonging in a community. And never has community felt so starkly important, since COVID-19 diminished the sense of togetherness that comes from sharing space, place and the air we breathe—all things we once took for granted.
Real Change—Seattle's longstanding street newspaper, for those who aren't familiar with it—was among the organizations hit hard by COVID-19 restrictions. Vendors were out of work for months while Seattle was under lockdown.
Despite those difficulties, though, those longstanding relationships prevailed.
Liz, who sells Real Change outside the Redmond PCC, remembered a manager telling her that customers would ask about her during the lockdown, making sure she was well while they were checking out.
Regular customers also checked in on Shelly, who sells Real Change at the Bothell PCC, to see if he was doing okay and make sure he had a safe place to stay. "They are concerned, especially because they know I am diabetic," Shelly said.
These were questions PCC customers would ask even in "normal" times—and we at Real Change are immensely thankful for that.
Gretchen, who sells Real Change at the Edmonds PCC, was heartened by the support and encouraged that it went beyond this region, too. "Knowing that many other groups and compassionate individuals have made contributions that have helped many people, both locally, and throughout the world, is very helpful," she said.
It's like Shelly demonstrated when I asked why he loves his work at PCC so much. He opened his arms wide and said, "Community."
It's no coincidence that word keeps coming up; community is a shared core value of PCC and Real Change.
The two are almost siblings of a sort. While founded generations apart—PCC in 1953, Real Change in 1994—they've grown up alongside one another through the rapid recent changes in the Pacific Northwest, with a common ethos that prioritizes people and their connections.
PCC has a policy of not allowing vendors to sell products or exchange money outside stores; Real Change is the one exception to that policy. Real Change vendors have been established at PCC since soon after the paper was founded. Vendors typically maintain the same store assignment for many years, and shoppers often develop close relationships with them, as we saw when shoppers at the former Seward Park PCC came together to memorialize vendor Robert Hansen after his death.
Before I began working at Real Change, all I knew was that Real Change provided jobs to low-income people and those experiencing homelessness. Like many long-time Puget Sound residents familiar with the newspaper, I did not know the bigger picture of Real Change's multi pronged strategy to address homelessness. The most publicly visible part is the social justice newspaper that vendors sell. But we also engage in advocacy and policy work for housing and economic equity and homelessness support and direct services. We have a case manager who helps vendors find housing. At our Vendor Center, vendors can get their mail, grab snacks and stock up on groceries and hygiene products.
Vendors are the heart of Real Change, and they are the reason we are here. Becoming a vendor is a low-barrier means of employment for people who are currently homeless or are actively working to maintain stability in their lives. Vendors train with us to begin selling the paper and then manage their own time and business strategy.
There is one more truth I have learned about Real Change in my past year working at the paper: Vendors who have been stationed at PCC stores describe their experiences there, without fail, as wonderful and providing a sense of camaraderie and belonging with PCC staff and customers alike. Vendor positions at PCC stores are particularly sought after, and typically retained for as long as possible for vendors.
As we all adjust to new ways of interacting with and supporting each other, we wanted to introduce you to some of these people, who are not just selling a newspaper but actively nurturing a sense of community.
To learn more about Real Change's vendors and mission, visit realchangenews.org.
Gretchen, Edmonds PCC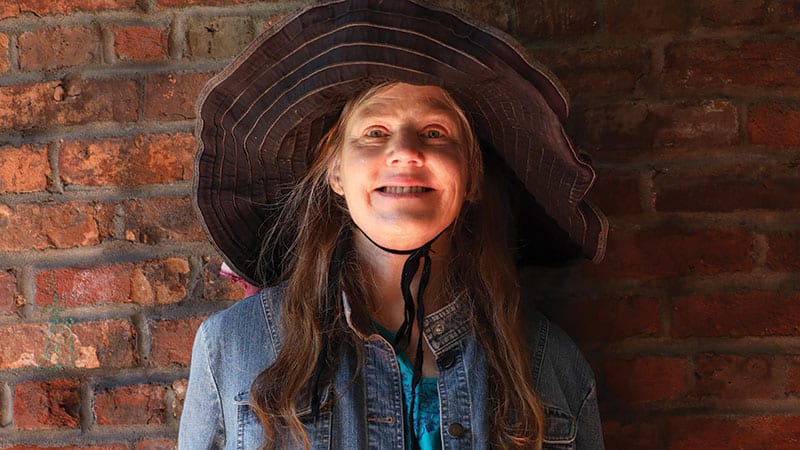 Gretchen is often poised at the entrance of the store holding up a stack of Real Change papers. She is well-read, always keeping up with the news and interested in political issues.
"After being previously homeless, I have an understanding of some of the difficulties many people are facing in regards to housing," Gretchen said. "But, times were different, and it was easier to get off the streets in Seattle at that time. Now it's much more difficult, due to the increased housing costs."
While selling the paper, Gretchen has thoughtful conversations with customers, and one such exchange from this past summer has stayed with her. Gretchen and a customer were discussing two articles in Real Change about police brutality. "I asked about how our system can be changed and improved. She answered saying that everyone must be kind and compassionate toward each other, and that we need to continue expanding our consciousness," Gretchen recounted.
Gretchen has a passion for the environment, and PCC's commitment to freshly sourced produce is a huge pull for her. She often buys groceries from the market after work herself. She dreams of seeing more parks and spreads of wilderness throughout the country and someday wants to contribute to farm preservation and organic farming initiatives.
She consistently expressed gratitude for the PCC community: "I appreciate the kindness and compassion of the PCC store organization and also my customers."
Liz, Redmond PCC
Liz has been selling Real Change at the Redmond PCC for seven years. In fact, it's been her only Real Change post. "I have not ever worked anywhere else. I'm happy there. I feel like family. I've built relationships with a lot of the customers," she said. There is one woman in particular Liz chats with for a half hour every Friday, and that relationship means the world to Liz.
For her, selling Real Change at PCC is not merely a source of income. In her comfort zone of home, she tends to default to being alone, perhaps reading a science fiction novel or spending time with her cats. Selling Real Change gives her a chance to face the world and interact with others outside of that comfort zone.
Blanca, Burien PCC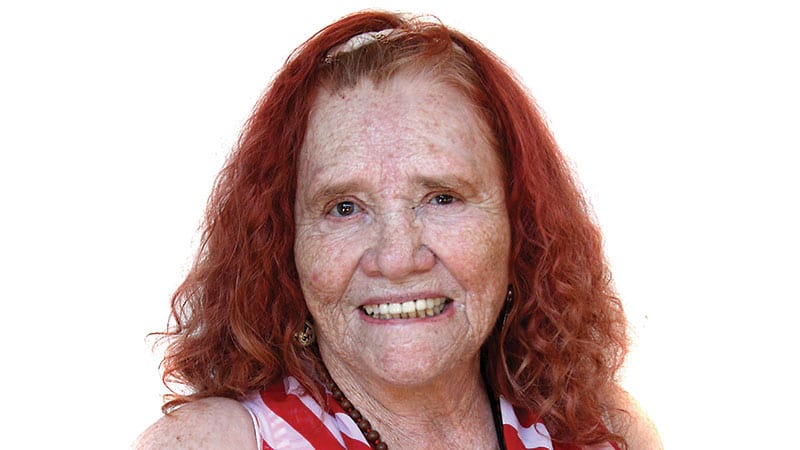 At the Burien PCC, you can meet Blanca inside the store's beautiful entry. She has been a Real Change vendor for 10 years. These years have renewed her faith that people can be kind and giving. After dealing with health issues, being able to sell and interact with customers has helped Blanca feel wonderful and alive. Blanca has two sons, who are both in Guatemala, and she was able to visit them last February thanks to the generosity of many PCC and Real Change customers who stepped up their support for her during the winter holiday season. "I always pray for them," Blanca says of the people who touch and change her life.
Darrell, Issaquah PCC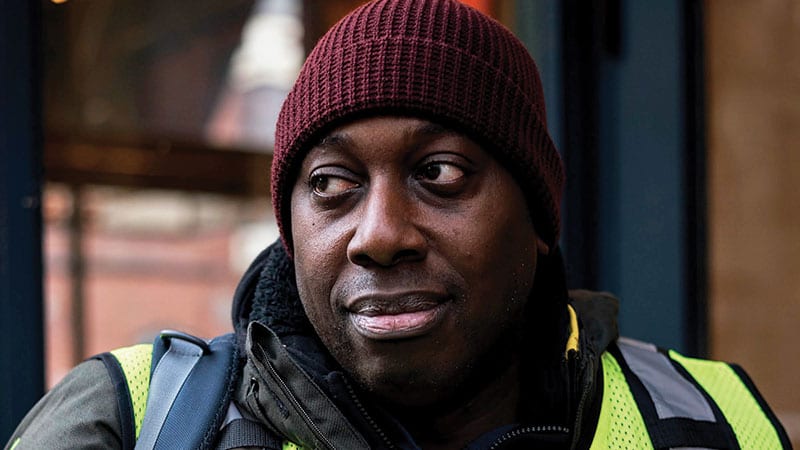 For Darrell, selling Real Change and the community that naturally forms around it is a mission. Darrell is tall, assured and speaks with a calm clarity of thought. "You never know what a vendor is going through," he said. "I believe in making a positive impact. I believe in leaving the world a better place than before."
These impacts are couched in the daily exchanges Darrell has with customers — and they spread, rippling into a societal sea-change. One memory particularly stands out to Darrell, involving a couple who Darrell interacted with over a period of time. Through his exchanges with them, Darrell noted how the conversations began to change the couple's mindset and understanding of homelessness and of African American men. That shift was immensely important because, Darrell said, it was the beginning of the couple's journey into hard but necessary conversations about the world and its inequities.
Shelly, Bothell PCC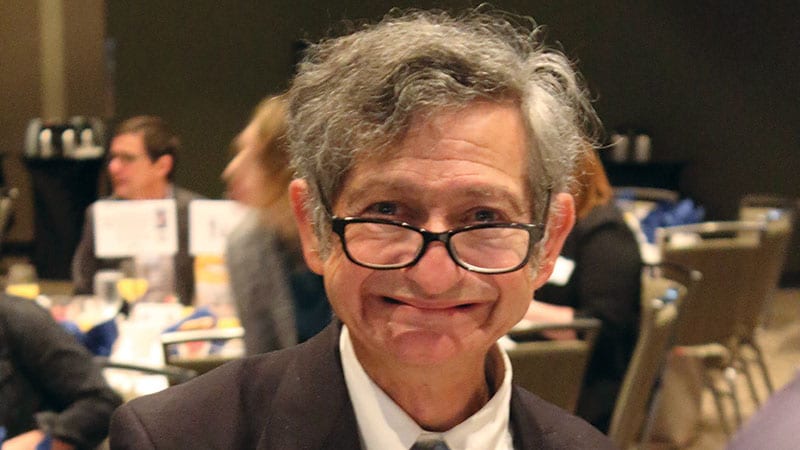 Shelly Cohen has represented Real Change at the Bothell PCC even before that store's opening, a process he recalls fondly. Shelly is well integrated and welcomed by the staff, and has been ever since he visited when the store was under construction. And, a lot of his customers there have stuck with him since the beginning. Shelly has witnessed the community that can spring up around a market.
When a new store director joined the Bothell PCC, Shelly went up to him to introduce himself. To Shelly's surprise, the director exclaimed happily, "Oh, I know you!"
Shelly will stand smiling for hours, exuding his trademark eager and positive attitude. And, Shelly loves to listen, which serves him well on the job. "I like it because I can help. I listen. Sometimes, I can be more of a friend than their family is to them," he said.
When asked overall what it's like to work out in front of the PCC, he says, "Wonderful. It's always wonderful."
Being a vendor has also enriched Shelly's life, and he wouldn't choose to do anything else: "I've grown a lot, learning how to interact with a diverse community."
Kamna Shastri is a staff writer at Real Change and a contributor to other local media outlets. Her work explores how culture, identity and the environment come together to inform our world.