Bringing Nigerian flavors to home kitchens
By Naomi Tomky, guest contributor
This article was originally published in November 2020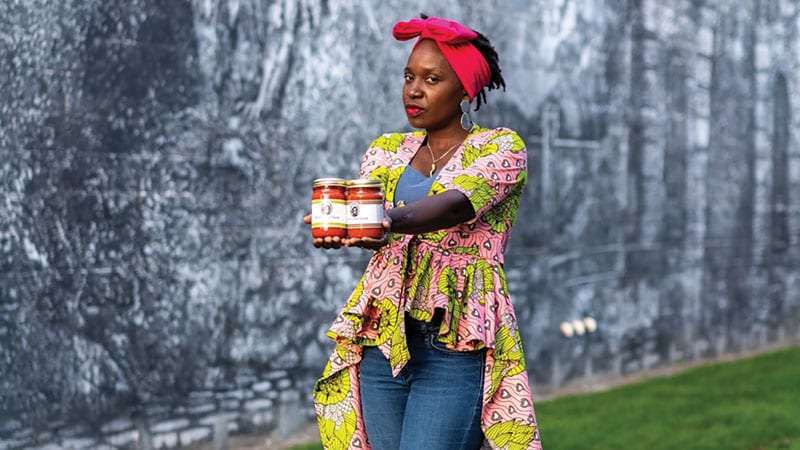 Had she known earlier about Seattle's lack of Nigerian food, Lilian Ryland jokes, she might not have married her husband. "There's Nigerian food everywhere!" she marvels.
Well—"everywhere" with some exceptions, as she learned.
But her husband's warnings about her future home seemed incomprehensible at the time, like someone claiming there were no McDonald's.
Luckily, Ryland's lack of research led her to a new career as well as love. Local cooks got lucky too, with new, easy-to-access Nigerian flavors through Naija Buka, Ryland's line of jarred sauces, now available at all PCC Community Markets. (The phrase loosely translates to roadside restaurant, or street food.)
Generally speaking, "Nigerian food is labor-intensive," says Ryland, dependent on long-cooked layers of tomatoes and peppers to form the base of the spicy, savory cuisine she missed so much. "I just wanted something easy."
Ryland first met her husband in person when she visited Seattle, after a few months of chatting online. Toward the end of that two-week trip—her first to the U.S.—he proposed. "Sometimes you have to take chances," she says. A year later, she moved to Seattle and they married. The week after her wedding, after her family flew home, she says, "all I wanted to do was go out and eat pepper stew." Suddenly, it hit her: "I told my husband we had to move. I cannot live in a place with no Nigerian food."
Though she grew up cooking with her mother and grandmother in north-central Nigeria's Benue state and always considered herself good at it, she never thought of it as a career option. At her newspaper job, she worked up from crime reporter to digital managing editor. But when she arrived in Seattle, she struggled to find jobs in media. "I was either too qualified or didn't fit the style they were looking for." She eventually joined Nordstrom as a sales associate and then personal stylist.
When a Nigerian friend panicked about finding a last-minute caterer for a 25-person party in honor of her baby's religious dedication ceremony, Ryland offered to step in—unfazed, even when she arrived to cook and learned attendance would actually be twice that. A few hours later, the party returned from church to a feast of meat pies, meaty stews, and jollof rice, a one-pot tomato rice dish. Exhausted and six months pregnant, Ryland slipped out, realizing her success only later, through the onslaught of catering requests. She hastily created a Facebook page as she figured out her next step.
"I have watched people open restaurants," she says, and knew that held no appeal for her, even before she glanced online and saw a proper range hood would run her tens of thousands of dollars. But as much as that first catering gig planted a seed, something else really fertilized the idea that Nigerian cooking could evolve into her livelihood.
While working at Nordstrom, she left her lunch in the fridge overnight, figuring she could eat it the next day. But when she got back, her dish sat in the sink, clearly eaten—not just a bite, but the whole thing. Instead of feeling angry, she thought, "That person likes my food!" She left the job when her daughter was born, but the incident stuck with her, showing her that Seattle held a market for Nigerian food beyond the small Nigerian community.
At home with an infant, summoning the same spontaneity that brought her to Seattle, she applied for a spot at the South Lake Union Farmers Market. Two days after her daughter turned one, the market opened. "It was a disaster:" Not exactly. She arrived late, the food still frozen as she set up in the pouring rain. Still, the line stretched 50 yards and in three hours, she sold out. "I was sure I was on to something."
But selling at the markets constituted research, not a business—it often cost more than she made. And many of her catering orders came in last minute—something hard in any circumstance but nearly impossible for a solo entrepreneur and parent selling time-consuming Nigerian dishes. Solving multiple problems at once and sending her down a whole new path, Ryland's husband suggested she try making some parts ahead and jarring them like pasta sauces.
She dove in as impulsively and full-fledged as she fell in love and moved across the world, reading up on safe canning and nailing down the flavors before commissioning a test batch. Her Nigerian and non-Nigerian friends alike raved about the flavor. But she couldn't sell them. "My conscience wouldn't let me," she says of the initial run, still in her garage, full of sugar, sodium and commercial tomato paste. "I wanted something I could feel good about."
She reformulated it, cooking each part from scratch with simple ingredients and developing a product that she loved enough to use every day. "That's how I want it to be," she says, a representation of who she is. "My mom's face is on that jar, for crying out loud!"
She started with Jollof Sauce. In Nigeria, strongly divided by religion, political party, region, tribe, and an enormous wealth gap, "The only thing we agree on is food." A few specialties connect across the many cultures, including spiced meat skewers called suya, fried yams and jollof rice.
Ryland compares her native cuisine to opening the fridge to see what might go bad soon and tossing it into a pot. "All these dishes people now think are Nigerian dishes, it's just what our ancestors were able to lay their hands on," she says. "They threw it together and it worked." Her second product, Everything Sauce, is a base for stews like the ones she grew up making from a garden full of corn, yams and spinach; backyard mango, cashew and pawpaw trees, and other foods she foraged with her grandmother. She calls the tomato and pepper mixture the key to Nigerian cooking, the base for—as the name implies—everything.
The ease of the sauces, particularly in comparison to the work involved in Nigerian cuisine, which Ryland warns "will kill you, if you're not careful," became central to her own life. (She describes their recycling output as just a clanking of empty sauce jars.) But it also opened a world of new ways to share the flavors of home. She recommends spreading the smoky Jollof Sauce on flatbread to make a vegan pizza or stirring the Everything Sauce into scrambled eggs.
She still longs for a Nigerian restaurant in Seattle, but by the time it arrives the flavors will be familiar to many more locals. The first 10 customers in line at her farmers market stand weren't Nigerian, she notes, nor was the person who stole her lunch at Nordstrom. "That's what I love about Seattle," she says. "People are always open to trying new things."
For someone whose life, location and career changed through optimistic, impulsive decisions, that seems to prove she ended up in the exact right place.
Look for Lilian Ryland cooking classes here.
Naomi Tomky (naomitomky.com), author of The Pacific Northwest Seafood Cookbook, writes about food and travel. She teaches occasional cooking classes at PCC, see Naomi Tomky, PCC Cooking Class Instructor.