Our co-op community
This article was originally published in September 2020
PCC has strong Pacific Northwest roots. We have been giving to our community for decades—supporting neighborhoods, ensuring a sustainable and accessible food system and protecting the environment. Read on to learn about some of the latest projects we've assisted and connect with us online so we can support your efforts to build a more healthy and sustainable community.
---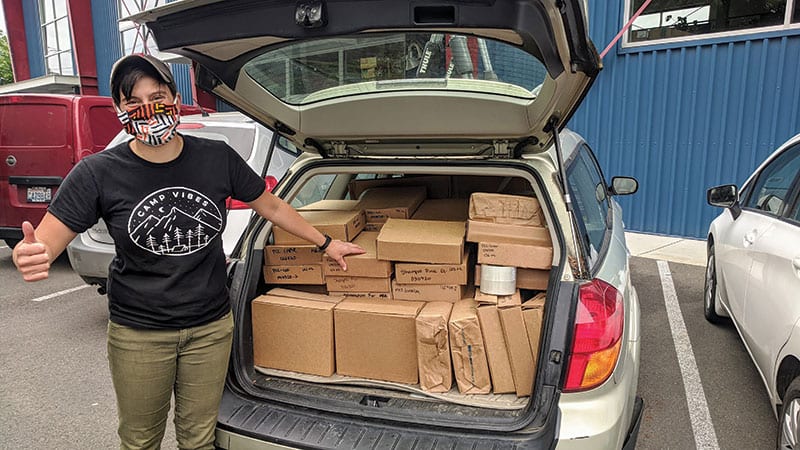 ---
Making new community connections
Throughout recent months, our region has faced enormous challenges. PCC Community Markets has been working behind the scenes to support our community in a number of ways. We team up with nonprofit partners to tackle some issues by providing grants and other direct financial support. At other times we lean into our relationships to find ways to meet community needs by bringing people together. And on any given day, each of our stores is donating hundreds of pounds of food to our community through our grocery rescue program.
This spring, we found an opportunity to bring together one of our suppliers with a longtime food bank partner. PCC shoppers are longtime fans of Moon Valley Organics, a Deming body care producer since 1998, which also produces PCC's certified-organic private label soap. The soap is free from harmful chemicals, and especially valuable for those with chemical sensitivities.
When Moon Valley had a surplus of odd-sized soap bars, it seemed an ideal match for Chicken Soup Brigade, the food and nutrition program of Lifelong. As one of PCC's Food Bank Program partners, we work with the organization to supply nutritious foods to help them serve their clients—all of which are living with chronic illness or are homebound. We were glad to facilitate the donation of more than 5,000 4-oz. bars of soap, which Chicken Soup Brigade distributed to its clients.
As the COVID emergency ramped up, we learned of a dire lack of high-quality protein in our local food banks. We were able to donate nearly 3,000 pounds of PCC heirloom organic turkeys to the Green Lake, West Seattle, Redmond and Kirkland communities. This helped many families put nutritious protein on their tables.
These experiences and many others have reinforced our priority of being more than just a store, but also a part of the community. As our region continues to experience challenging times, we will continue to find ways to connect and help others to connect.
Are you involved with a nonprofit organization with an upcoming volunteer event or fundraiser? Visit pccmarkets.com/socially-responsible. Learn more about supporting your neighborhood through our Food Bank Program here.
Apply for new PCC grants
We're excited to launch two new grants this year to support Northwest producers on issues that are co-op priorities. Applications will be open Oct. 1 to Oct. 31 to apply for a Diverse Entrepreneur Grant supporting entrepreneurs in the Puget Sound region. Applications will also be open Oct. 1 to Oct. 31 for grants supporting organic farmers and producers statewide. (Read more about the pilot grants for the organic farming program, which were open to existing PCC producers, here.)
Visit our grants webpage for application details at pccmarkets.com/sustainability/grants.