Edible City: a delicious journey
by Rebekah Denn
This article was originally published in March 2017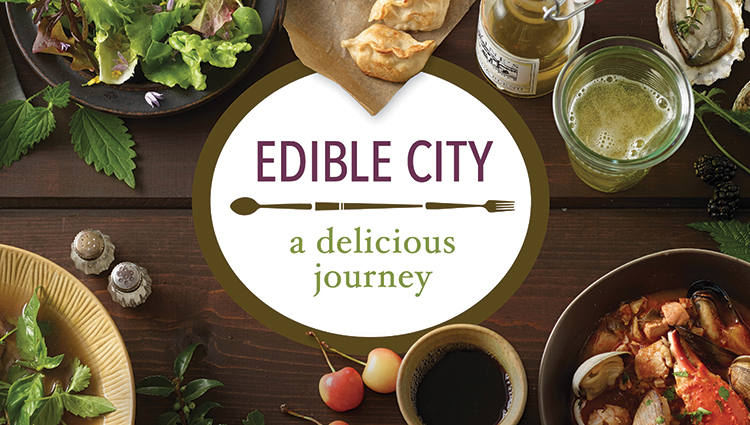 Does a salad recipe belong in a museum? It does when it's PCC's Emerald City Salad, one of the signatures of Seattle's food scene featured in Edible City, an original exhibit on display through September at the Museum of History and Industry (mohai.org). Beyond the recipe, PCC contributed other artifacts that trace the co-op's history. PCC is a supporting sponsor of the exhibit.
Through artifacts, photographs, films — and, yes, recipes — the 5,000-square-foot exhibit explores our city's culinary history and what it truly means to be a Seattle food. The one thing that couldn't fit in the display was real food, as it's not allowed in the exhibit halls. Want a virtual taste, though? The Edible City book accompanying the exhibit will be available in some PCC stores, and we've printed a brief excerpt below along with a list of the show's highlights.
The museum's ongoing series of exhibit-related events are featured in the Sound Consumer monthly calendar — and if you just want the salad recipe, that's available here.
In Seattle, food always has meant more than a meal.

Our journey from the earliest oyster middens to the modern four-star restaurants is a reflection of our geography, our history and our people.

Location is everything: Seattle is close to fishing and shellfish harvesting grounds, close to fertile farmland and foraging areas. Institutions dedicated to food are concentrated in our region, from the agricultural research labs at Washington State University to the fishing fleet headquartered here and the factories processing their catches.

Diversity is key to our success: Throughout generations, the city has attracted immigrants who bring their own culinary traditions and skills, with a lively population of young, creative and international residents hungry for familiar flavors. Seattle's resources and natural beauty made it a place that, even when tough times came, people didn't want to leave.

A commitment to homegrown foods went well beyond World War II Liberty Gardens here. A critical mass of idealists interested in self-sufficiency and fresh ingredients consistently has been balanced out by businesses and municipal support. A collaborative culture supports robust food co-ops and a closely connected network of farmers and chefs.

Size also matters: The city is large enough to accommodate new breakthroughs, yet still small enough to foster a sense of community.

The city has become one of the country's top places to eat and innovate. And, while it took more than a century to establish a definable Seattle cuisine, its raw ingredients were here all along.
Reprinted with permission of the Museum of History & Industry.
Exhibit highlights
Edible City covers a broad expanse of the region's food history, from historic menus to gorgeously colored cannery labels to a 19th-century Duwamish woven cedar basket. Of course our favorite highlights include the 1978 photograph of the original PCC market in Ravenna, back when the bulk bin labels were still handwritten, and the photo of the Picardo farm in North Seattle, which became the city's first P-Patch in the 1970s — with some help from PCC — instead of being sold for development. There's also a spotlight on our region's farmers markets and CSAs. Here are other features that might be of special interest to PCC members and shoppers:
An extensive look at Pike Place Market covers the landmark's century-plus of existence, from early film footage to a full-size farm cart. One highlight: a 1927 letter scolding a Market vendor for selling California spinach when locally grown spinach is available.
Reminders that berry farms were the biggest industry on Bainbridge Island until World War II, including a 1930s foot-pedal stapler for shallow berry trays made to carry fragile raspberries and Olympic loganberries. (The Olympic berries, developed on Vashon Island, were destined for another beloved piece of our past, the Frederick & Nelson tearoom.)
Which local organization celebrates its triumphs with an annual "Survivor's Banquet"? It's the Puget Sound Mycological Society, whose tribute in the exhibit includes the homemade mushroom dehydrator made by architect Ben Woo, the organization's founding president.
Letters between culinary icon Julia Child and local tastemaker Jon Rowley. Child once dubbed Rowley, whose achievements include popularizing Copper River Salmon, "The Fish Missionary."
An original film on Native food sovereignty, narrated by nutritionist Valerie Segrest of the Muckleshoot tribe and produced by Kay D. Ray.
The region's first espresso cart, Monorail Espresso, which debuted (under a different name) at the Edmonds Arts Festival in 1979, forever influencing coffee culture in Seattle and around the country.
The history of the Cinnabon pastry (including original cinnamon tasting notes), developed by baker Jerilyn Brusseau for Restaurants Unlimited, Inc.
Tools from the kitchen and writing desk of Angelo Pellegrini, the University of Washington English professor whose influential writings about "the good life," growing and eating simple foods, are as fresh today as when he published his first book in 1948. Today Seattle's Pellegrini Foundation honors people who carry forward his ideals, such as Charles and Rose Ann Finkel, who founded the Pike Brewing Company and organized the Slow Food Seattle movement.
One of the beautifully crafted chef's knives made by master bladesmith Bob Kramer, famed worldwide for his almost-impossible-to-buy hand-forged tools, along with a look at how Kramer works.
Images and icons from Seattle's past, including tools from the Sagamiya Confectionery Co., long known for its New Year's mochi, and signs from The Doghouse restaurant (all roads once led there).
Two looks at Leonetta Merlino – as a young girl, her name was used for an olive oil brand in the business run by her family, the first Italian food importers in Seattle. Much later, we see her in a family video making her celebrated raviolis, narrated by her famous grandson, Mario Batali.
Want to be part of the exhibit? MOHAI is sponsoring a "Chicken of the Month" contest featuring photos of local backyard chickens by the real coop in the exhibit. To enter, post your favorite local chicken photos on Instagram and tag them #ediblemohai.
Upcoming events
Starting next month, view Sound Consumer's calendar listings for upcoming Edible City events.
March events include:
Edible City Industry Day
Thursday, March 2, 10 a.m. to 8 p.m.
To show appreciation for the hardworking employees who make this such a diverse and rich region for food and beverage, MOHAI invites food industry employees to experience "Edible City: A Delicious Journey" with complimentary admission. To redeem, please present a valid food handlers permit or food service employee ID at admissions. (Limit one complimentary admission per valid permit or service ID. Offer valid only on March 2, 2017.) See mohai.org for more details.
Taste of Place
March 7, 7 p.m. at MOHAI
A panel discussion on Washington's terroir, including a guided tasting of local cheese, honey and wine. Experts on geology, food, wine and cannabis will explore the ways natural phenomena help create our state's most specific aromas and flavors. 21+ only. Cost: $15 MOHAI members, $20 general public.
Taste of the Market Culinary Series
March 29, 6:30 p.m. at Atrium Kitchen at Pike Place Market
Seattle Food Writer (and PCC instructor) Nancy Leson and Chef Cheng Biao Yang of Country Dough will demonstrate "The Art of Hand-Pulled Noodles." Cost: $30 MOHAI members, $35 general public, www.brownpapertickets.com/event/2712901.
Seattle journalist Rebekah Denn is a two-time winner of the James Beard award for food writing.