Wild for Weleda
by Marilyn Walls, M.S.
This article was originally published in March 2017
For nearly a century, the German skincare company Weleda has pioneered clean body care with wild-crafted, organic and biodynamic ingredients from its own gardens, fair trade farms, and cooperatives around the world.
It's dawn a few miles outside of Schwabisch Gmund, Germany, and baskets are being filled with the handpicked calendula flowers to be used in Weleda body care and baby products. Traditionally these beautiful orange and yellow flowers are picked right after the dew dries, at their peak, before the sun warms them too much. An insect hotel, a bee hive, a reflective pond, a compost heap and a greenhouse are nearby. Lined ceramic containers once used to distill plant oils now are displayed as garden art.
Employees enter the gardens through a living willow arch, which changes with the seasons. They take exacting data of the echinacea, poppies, arnica and more than 250 other plants that they harvest.
Then the fresh harvests go directly to the processing facility, where great care is taken to clean the roots, peel the bark and hand-select the best blossoms and leaves. The calendula is picked and blended into a tincture on the very same day to assure freshness and potency.
All of this seems fitting for Weleda, whose founder, Dr. Rudolph Steiner, created the principles that define biodynamic farming in the 1920s. Steiner described each farm as a complete, self-sustaining organism — the soil was "alive," and if kept in balance, it had the ability to give life to healthy plants. Composting, fertilization and pest control are achieved using natural farm resources, and chemicals or growth hormones are strictly forbidden. That's the philosophy behind biodynamics: take good care of your farm, and it will take good care of you.
Since Weleda was started in 1921, a reverence for plants and an honoring of botanical benefits have been the foundation for the creation of the company's body care products.
From the beginning Weleda has nurtured relationships with farmers and wild-crafters. Weleda's plant needs eventually outpaced the supplies from its 50 acres of biodynamic gardens in Germany, however, leading the company into 50 fair trade partnerships offering herbs, flowers and fruits from countries all over the globe. The partnerships are with both small and large farms, with cooperative and cultivation projects.
Ethical partners
Weleda's cooperative partners thrive because the farmers receive a fair price for their crops and a promise to buy a certain quantity annually, and they work in safe, sustainable conditions. Weleda even prefinances the harvests. The co-ops receive help converting to organic practices, get agricultural training for their children, and often are established in cooperation with developmental organizations, universities or international environmental protection groups.
Weleda is a member of the Union for Ethical BioTrade (UEBT), a nonprofit certifier in Europe. "UEBT certification is based on a blend of both social and biodiversity criteria," a Weleda representative explained. "Joining the UEBT came when we recognized the challenges to transparency across the supply chain. With UEBT we can use the organizations' standards to ensure that all of our sourcing practices promote the conservation of biodiversity and that benefits are shared equally."
Good-for-gums ratanhia
Weleda's first cooperative started in Peru more than 40 years ago to protect the endangered ratanhia (Krameria triandra) plant. With a team of Peruvian farmers and the Nature Conservation Authority, one of the early fair trade projects was begun to stop the overharvesting of the ratanhia plant. Besides assuring the local farmers of fair wages and education, it safeguarded the dried ratanhia roots used in Weleda Ratanhia Toothpaste, Plant Gel Toothpaste and Salt Toothpaste. Today 5,000 acres are dedicated to organic ratanhia, and for each root harvested, five seeds are planted in the exact location.
Ratanhia grows in arid climates, usually at high altitudes, and likes a sunny spot. Known for the tannins in the bark of the root, it has been used historically by Peruvians for their teeth and gums. As an astringent, the properties of ratanhia shrink and tighten tissues and protect against bleeding. These benefits can ease oral inflammation and strengthen gums. Since Weleda's standards for ingredients closely align with PCC's standards, ingredients such as sodium lauryl sulfate never have been in any Weleda oral care. In fact, no synthetics ever have been part of Weleda products.
Nourishing wild roses
"Weleda is the single largest buyer of roses in the world," said Deanne Zirker, Weleda western regional sales manager and educator. "More than 400,000,000 roses a year are harvested in Turkey."
According to Zirker, the roses "support the skin with moisturizing and anti-inflammatory properties."
To secure this supply of wild roses Weleda formed the Sebat Cooperative in 2001 with 30 farmers. It has grown to 300 farmers in the Turkish village of Senir, who grow and harvest these organic roses, despite the political unrest in that country.
The antioxidants provided by the pink tones of these organic wild roses nourish the skin and improve elasticity. Rose has long been touted to smooth fine facial lines and as a remedy for capillary issues, such as rosacea. The lovely rose properties and rose fragrance enhance Weleda Renewing Facial Care and other soothing skin care products, including Wild Rose Body Oil, Wild Rose Body Lotion and Wild Rose Body Wash.
Age-defying ingredients
Also sourced in Turkey are pomegranate seeds used in the age-defying facial creams. One hundred small-scale farmers produce these organic pomegranates. Pomegranate seed oil contains antioxidants, essential fatty acids and vitamins, which may assist in skin regeneration and firming.
Weleda sources sea buckthorn berries from the world's first biodynamic sea buckthorn farm in San Marino, Italy. The sea buckthorn plants bask in the Italian sun, adapting to the heat and dryness. The properties of the plant for surviving the sunny environment translate into human hydration benefits, especially in the form of omega 7 and vitamin C. According to Ziker, "both nutrients support the skin with moisturizing and anti-inflammatory properties." Sea buckthorn is blended with cheerful citrus essential oils into hand cream, body lotion and body wash.
Birch leaves and birch extracts have been sustainably collected in the Czech Republic and Poland since 1998. Studied as a cell detoxifier, birch is used in Weleda's Birch Cellulite Oil. It may help tighten the top layer of skin to give a more refined skin tone.
After 95 years Weleda continues to deliver gentle and effective products while supporting fair trade partnerships throughout the world. Though reassuring and impressive, reading a Weleda label is only the beginning. There is a story about saving families, communities and plants behind the company's dedication to beauty and purity.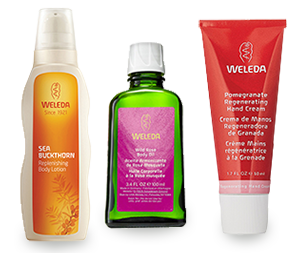 Products we love
Bonus: they're on sale all month!
Arnica Sports Shower Gel
With the sustainability of arnica being threatened in Europe by changing conditions, Weleda formed coalitions to protect this plant used to comfort sore muscles. Weleda arnica is sustainably harvested in Romania and the Vosges Mountains of France by cooperatives of local farmers and wild-crafters.
Weleda Pomegranate Hand Cream
Thicker than most, to offer more hydration and protection. Besides pomegranate to offer healing antioxidants, this cream also has sesame seed and avocado oil to enrich with essential fatty acids for soft, healthy skin. Your feet will soak up this luscious cream, too!
Weleda Ratanhia Toothpaste
Contains ratanhia and myrrh, which has been used for centuries as an astringent and antiseptic, as well as to improve gum and oral health. The fresh taste comes from peppermint and spearmint essential oils. Cleanses gently without synthetic ingredients.
Sea Buckthorn Body Lotion
Has moisturizing ingredients such as macadamia nut oil, shea butter and soothing mallow extract. Hydrating and replenishing without being greasy.
Wild Rose Body Oil
Can be used as a full-body treatment, in the bath or for massage. Along with rose oil, rosehip leaf extract supplies vitamins A and E to fight free radical damage and essential fatty acids to nourish the skin.
Weleda Skin Food Cream
There's a reason Skin Food is the top seller of all Weleda products at PCC. It's beloved by our customers because it's ultra-rich and soothing for any skin left dry and itchy by winter's effects.
Marilyn Walls, M.S. is a nutrition educator at PCC.