Transforming food system values
— from the editors
This article was originally published in March 2016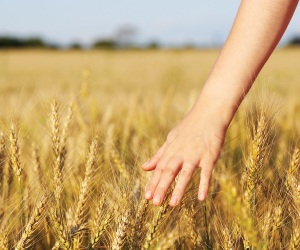 Big, processed food companies lost $4 billion in market share in 2014 alone and $18 billion in market share since 2009. Their problem? Shoppers are rejecting artificial colors and flavors, pesticides, preservatives, growth hormones, antibiotics and genetically engineered (GE) ingredients in favor of fresh and organic alternatives. (See "Big food is losing".)
Yet that report reveals only a little of how the food system has changed over the past year and a half. In case you missed them, here are some notable shifts in the market.
Organic & non-GMO demand
The market research firm, Mintel, found organic consumption is greatest among young people, with nearly half of millennials (49 percent) choosing organic for at least half their food/beverage purchases.
General Mills is investing $50,000 in an organic grain initiative to entice growers to transition to organic and secure its pipeline of organic ingredients.
New data affirms Non-GMO Project Verified is the most sought-after label in the food industry, growing faster than gluten-free or organic. The non-GMO market is valued at $8.5 billion.
Bloomberg News says growing demand for organics — and the dominance of GE corn and soy in the United States — is driving a surge in imports from other nations largely free of GMOs. Romania is the leading supplier of imported organic corn. More organic corn is being imported from Turkey, the Netherlands and Canada.
Organic soy imports from India more than doubled from 2013 to 2014. Imports last year were $1.28 billion, while exports (mostly apples, lettuce, grapes, spinach and strawberries) were just $553 million.
U.S. corn farmers have launched a $1 billion lawsuit against Syngenta, claiming the biotech giant has caused massive damage to the demand for U.S. corn on the international market. Syngenta released a GE corn variety (Viptera) before it was approved and now many nations refuse to import any U.S. corn because of contamination.
A Freedom of Information Act request revealed GE Arctic apples contaminated and altered the genetic code of nearby apple trees in Washington state. The U.S. Department of Agriculture has fined Gebbers Farms of Brewster $19,250 for conducting a trial too near conventional apples, failing to keep good records, and making no effort to keep animals away from the field.
Monsanto lost $156 million in its fiscal fourth quarter, about 40 percent of the share value. Net income plunged from $2.1 billion a year to $1.1 billion.
Counties in the Imperial Valley in Southern California have banned cultivation of Roundup Ready alfalfa because of contamination concerns and export market losses. The valley produces a lot of vegetables — but alfalfa is used in rotation with vegetable crops.
Livestock production practices
The American Medical Association, representing 25 percent of MD physicians, is calling for a ban on non-therapeutic antibiotics in raising livestock.
Perdue Foods, the third-largest U.S. chicken producer, has stopped adding antibiotics for human diseases to the water or feed for 95 percent of its chickens. Perdue is buying Niman Ranch, a provider of meats raised without antibiotics.
More than 35 major brands have committed to shift to cage-free eggs.
SPINS data shows "Grass-fed," "Pastured" and "No Artificial Hormones" label claims are increasing in all retail channels. Sales of products labeled "organic and grass-fed" increased 81 percent in the past two years.
Hormel is buying Applegate Farms, the maker of organic sausage and bacon, to meet growing demand for meats produced without added antibiotics, hormones and artificial additives.
Simple foods without additives
Taco Bell plans to remove all artificial flavors and colors and to replace standard palm oil with certified sustainable palm oil. Pizza Hut is removing all artificial colors and flavors from its pizzas. Subway is removing all artificial colors, flavors and preservatives from its salads, sandwiches, cookies and soups.
Campbell Soup is eliminating artificial flavors, colors and introducing "made with organic …" products, such as "made with organic" baby food. Campbell also is the first major brand to announce it's labeling GE ingredients.
General Mills has agreed to remove the "100 percent natural" claim on products made with corn syrup, maltodextrin or GE ingredients. The settlement follows four lawsuits charging General Mills has misled consumers.
A federal judge granted preliminary approval of a settlement nearing $4 million to resolve a class action suit against Kashi. The suit accuses Kashi and owner Kellogg's of false and misleading labels claiming its cereals, snacks and pizzas containing GE soy and corn are "all natural."