Your co-op community, March 2016
This article was originally published in March 2016
Bunny Bounce and Easter Baskets for the Animals
601 N. 59th St., Seattle
Saturday, March 26, 9:30 a.m. to 3 p.m.
Hop, skip and jump to Woodland Park Zoo for the 15th annual Bunny Bounce, featuring egg hunts for children ages 1-8, crafts, bunny encounters, and eggs-citing zoo programs throughout the day. Space may be limited. First-come, first-served. Orangutans, lemurs, grizzlies and more nibble on Easter baskets lined with flowers, berries and other favorite treats. The special treats are part of the zoo's animal care program to help enrich the lives of the zoo's animals. Find the PCC TasteMobile next to the penguins where we'll be doing Kid Picks taste tests.
---
PCC Springtime Fun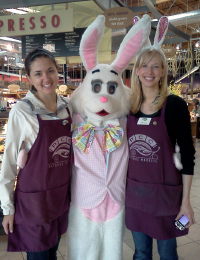 Saturday, March 19
Columbia City, Issaquah, Greenlake Village, West Seattle, Redmond and Edmonds PCCs, 9 a.m. to noon
Greenlake Aurora PCC, 11 a.m. to 2 p.m.
Start springtime festivities early this year and bring your kids to our participating stores to join in these fun crafting events. Kids can guess the number of jelly beans, see the Easter Bunny and take a photo! There will be snacks and gift basket raffles.
---
Food bank packaging work parties
Help our partnering food banks by donating your time to pack our bulk foods into family-sized portions. Join us:
Wednesday, March 2 at 7 p.m., FamilyWorks Food Bank
Thursday, March 3 at 7 p.m., Rainier Valley Food Bank
Wednesday, March 9 at 7 p.m., North Helpline Food Bank
Monday, March 14 at 6:30 p.m., Kirkland Hopelink Food Bank
Monday, March 21 at 7 p.m., Issaquah Food & Clothing Bank
Wednesday, March 23 at 7 p.m., University District Food Bank
Monday, March 28 at 7 p.m., Westgate Chapel Food Bank
For more information, including addresses and future dates, check out pccmarkets.com/foodbank.
---
Good Livin' Organic Food CD
The first CD of its kind dedicated to celebrating organic food is being sold online and at retail shops around Seattle. Produced by the Edmonds-based business, Change Your Food, Change Your Life!™, the CD brings together diverse voices in pop, hip-hop, R&B, gospel, rap and jazz with original, fun lyrics. Download the Good Livin' CD at changeyourfood.com.
---
Tilth Edible Plant Sale
Saturday, March 12, 9 a.m. to 3 p.m.
Early Bird Sale: Friday, March 11
Rainier Urban Farm and Wetlands
5513 S. Cloverdale St., Seattle
PCC sponsors this annual event where you can choose from a wide selection of organic and locally grown veggies, herbs, edible flowers, fruit shrubs, fruit trees, seeds and supplies and gather knowledge galore. PCC will be there with the TasteMobile. Admission is free.
For people who want to shop early with limited crowds, come to the Early Bird Sale from 5 to 6:30 p.m. on Friday. Tickets are available for $25 as a special fundraiser to benefit Seattle Tilth's educational programs. People who volunteer for this event get in for free. Tickets are $25. Learn more.
---
Kindiependent Rock Series
Mount Baker Community Club
2811 Mount Rainier Drive S., Seattle
Start your Saturday morning with "Seattle's independent kids and family music scene" that features some of the best, local children's entertainment groups. Come rock out to two shows this month:
Saturday, March 12, 10:30 to 11:30 a.m. – Harmonica Pocket
Saturday, March 26, 10:30 to 11:30 a.m. – Caspar Babypants
These events are part of the Kindiependent Kids Rock Series, an exciting set of shows running December through April. Learn more about this organization and check out all concert dates at kindiependent.com.
---
Sign up for PCC Advocates
If you haven't already, consider signing up for PCC Advocates, our e-newsletter that keeps you informed about current food and agriculture controversies. We'll share our position on policies that can affect the food supply and help you take action to ensure a more sustainable future. Sign up at pccmarkets.com/enews.
---
PCC Cooks
Harness your pre-spring energy this March with menu ideas and techniques that will translate flawlessly to the approaching warmer weather. The lineup includes Slow Food: Low-Heat Cooking, an advanced class focused on the wonders of low-heat cooking methods; A Little Meat – A Lot of Flavor, featuring innovative recipes that recast meat as a condiment rather than the foundation of a dish; and Global Jewish Baking, where you'll work hands-on to master classic rugelach cookies and savory borekas. Plus, learn how to utilize your own spice cupboard to boost your immunity and fend off those pesky seasonal colds with Kitchen Pharmacy: Sublime Spices.
Don't forget to mark your calendar — registration for spring classes begins Tuesday, March 1 at PccCooks.com. From bright, inventive menus celebrating the freshest of spring's fruit and vegetable bounty to one-topic immersions and our ever-popular Around the World in Five Days kids' cooking camp, PCC Cooks can't wait to share the delights of springtime eating with you.