Organic standards decisions
This article was originally published in June 2013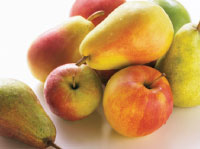 The National Organic Standards Board (NOSB) has voted to end a controversial allowance for antibiotic sprays to be used in organic apple and pear production. The vote to "sunset" tetracycline was 9 to 6, and came after days of spirited testimony by an array of stakeholders.
PCC's comments to the NOSB supported "sunsetting" the allowance, as scheduled in October 2014, without another extension. Other testimony included concerns about encouraging antibiotic-resistant strains.
In other actions, NOSB unanimously rejected several petitions asking that certain materials be allowed for use in organic foods. These included unanimous rejection of conventional sugar beet fiber, DBDMH (an antimicrobial treatment in meat processing) and sulphuric acid (extraction of seaweed for nutraceuticals).
The NOSB will continue discussion at the fall meeting on a seed purity standard for presence of genetically engineered traits.
Learn more: Antibiotics for organic apples and pears?, Sound Consumer, April 2013.